The Girl He Knows by Kristi Rose
Genre:
contemporary romance
About The Girl He Knows:
Waking up naked next to a good looking man is not a bad way to start the day. Especially since Paisley missed all those opportunities in college, when she was too busy supporting her no good, thankfully now, ex-husband. The problem? This hottie is Hank, her best friend's older brother, a guy she's known her entire life.

Stopping after one night is the right thing to do. Being with him clearly breaks the best friend code, and from his career as a Naval officer to his Boy Scout reputation, everything about him screams monogamy and commitment. Two things Paisley has had enough of.

When Hank presents a "no strings attached" offer, it's too good to be true. She can enjoy him while still embracing being single. But, poor choices force her to confront old fears of love and loss, and Paisley has to decide if Hank is worth the risk. The alternative is never experiencing the real deal. Or far worse, settling for less.
Source:
Info in the
About The Girl He Knows
was from the press kit from the publicity team.
Buy Link(s):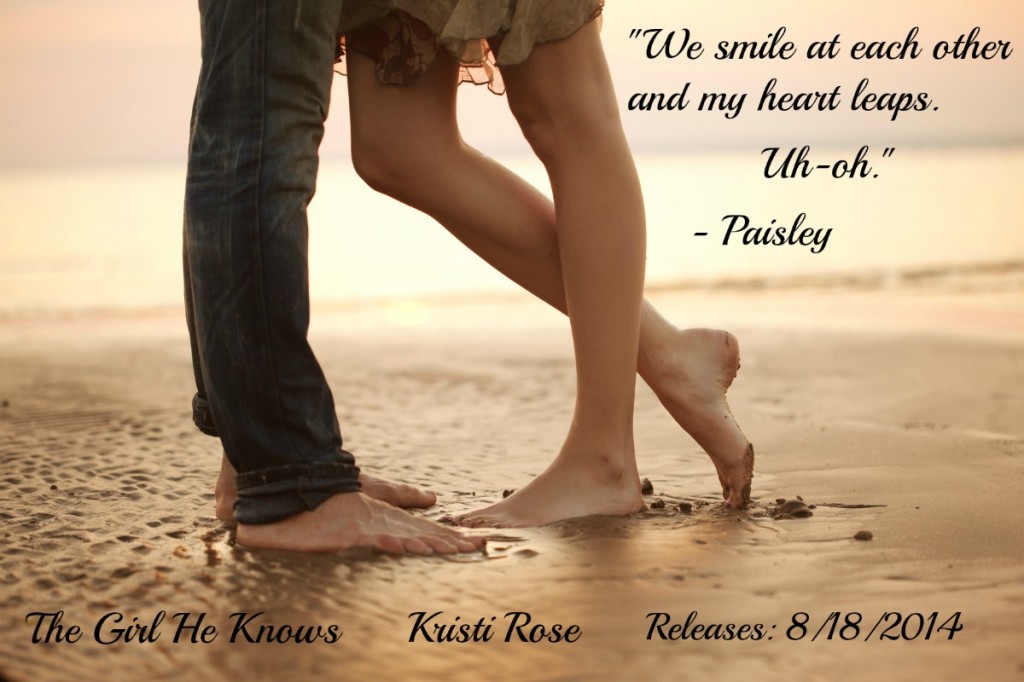 Excerpt:
"Wanna get together again next weekend?" he asks.

I swivel my head to look at him. "Are you serious? No, I don't want to get together next weekend. This"—I gesture in the space between us—"cannot happen again."

"Why not?" He grins and wags his eyebrows.

"It's a disaster in the making."

"What do you mean?"

"Jeez, where do I start? This whole thing is wrong. My friendship with Gigi, our friendship. It could all go up in smoke. Is it worth it?" How does he not see this?

"I'm just talking about going out together."

"Sure, you make it sound harmless. But the last time we got together it led to sex. When I get around you, my judgment gets out of whack and I might do something stupid." OK, perhaps I should say I might continue to do something stupid. Stupid has already come and gone.

"As I see it, if you're gonna do something stupid, who better with than your old pal Hank? I can think of a thousand stupid things to do together." Does he really think it's that simple? He turns toward me, rests his hand on the top of my seat, and gives me a toothy grin.

I want to laugh or shove his shoulder because he's being flippant but he needs to know where I'm coming from, that I was once broken."
About Kristi Rose:
Kristi Rose was raised in central Florida on boiled peanuts and iced tea. She's lived by an active volcano, almost fallen off a mountain, and was married in Arkansas by a J.O.P in flip flops named Earl. Today, as a proud military wife and mother of two, she's been lucky enough to travel the world. No matter where she is, she enjoys watching people and wondering what's their story? That's what Kristi likes to write about: everyday people, the love that brings them together, and their journey getting there. Kristi is a member of RWA. You can follow Kristi at www.kristirose.net, like her Facebook page: Kristi Rose, or send her a tweet @krosewrites. The Girl He Knows is her debut novel.
A Lyrical Press title