Born In Fire by K. F. Breene
Book 1 of the
Fire & Ice Trilogy
Read by
Nicole Pole
Genre:
urban fantasy
Format:
ebook & audiobook
About Born In Fire:
Heart pounding and laugh out loud funny, USA Today Bestselling author K.F. Breene will take you on a magical joy ride you won't soon forget.

Supernatural Bounty Hunter isn't the sort of thing you see on LinkedIn. But with a rare type of magic like mine, I don't have many options.

So dangerous or not, the job is mine. And it was going fine, until an old as sin vampire stole my mark, and with it, my pay day.

Knowing I'm poor and desperate, he has offered me a job. I'll have to work by his side to help solve a top secret case.

Everyone knows not to trust vampires. Especially a hot elder vampire. But without any other jobs coming up, I'm stuck. As I uncover a web of lies and treachery, revealing an enemy I didn't know existed, the truth of my identity is threatened. I might make it out alive, only to end up in a gilded cage.
Source:
Info in the
About Born In Fire
was taken from GoodReads at
https://www.goodreads.com/book/show/34341759-born-in-fire
on 01/06/2018.
My Thoughts:
A grand start to a new-to-me series!

This is the first K. F. Breene book that I have read and am quickly becoming a fan. I thought that the special girl and vampire routine is old and jaded. It's been used around the block ones too many times. It's cliché. However, this author managed to make it interesting never-the-less, despite my scoffing. So of course I bought the books of the rest of the series already. I'm a little cautious though because I do not want to keep my hopes high only to be dashed by the end of the trilogy so much like The Kingmaker Chronicles. Now that one, is a real downer!

This is also the first Nicole Pole audiobook that I have listened to, and I have to say, she reads amazingly! Just the right amount of derision, sass, and intonation as the book calls for it. Kudos to the narrator! But for some reason though, I needed breaks from the book from time to time. This lead to the pace of the book slowing down despite the great world building. However, it also makes me look forward to reading further after the break. It adds an 'anticipatory pleasure' to the reading. And that gotta be a plus, right?
Empirical Evaluation:
Story telling quality = 4.5
Character development = 4.5
Story itself = 4.5
Writing Style = 4.5
Ending = 4
World building = 5
Cover art = 4.5
Pace = 3
Plot = 4
Narration = 5
Overall Rating:
4.5
out of
5 cherries
Books In The Fire & Ice Trilogy: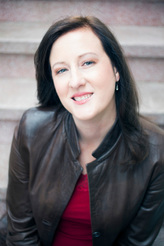 About K. F. Breene:
K.F. Breene is a USA Today Bestselling and Top 10 Kindle All-Star author of paranormal romance, urban fantasy and fantasy novels. With two million books sold, when she's not penning stories about magic and what goes bump in the night, she's sipping wine and planning shenanigans. She lives in Northern California with her husband, two children and out of work treadmill.

[Source: Info in the "About K. F. Breene" was taken from the author's website at: http://www.kfbreene.com/bio]
FTC Disclosure:
The ebook and audiobook copies of the book were purchased with private funds.
No money received for this review.