Storm Cursed by Patricia Briggs
Book 11 of the
Mercy Thompson
series
Read by
Lorelei King
and
George Newbern
Genre:
urban fantasy
Format:
hardback, ebook & audiobook
About Storm Cursed:
My name is Mercedes Athena Thompson Hauptman, and I am a car mechanic.

And a coyote shapeshifter . . . And the mate of the Alpha of the Columbia Basin werewolf pack.

Even so, none of that would have gotten me into trouble if, a few months ago, I hadn't stood upon a bridge and taken responsibility for the safety of the citizens who lived in our territory. It seemed like the thing to do at the time. It should have only involved hunting down killer goblins, zombie goats, and an occasional troll. Instead, our home was viewed as neutral ground, a place where humans would feel safe to come and treat with the fae.

The reality is that nothing and no one is safe. As generals and politicians face off with the Gray Lords of the fae, a storm is coming and her name is Death.

But we are pack, and we have given our word. We will die to keep it.
Source:
Info in the
About Storm Cursed
was taken from GoodReads at
https://www.goodreads.com/book/show/25026912-storm-cursed
on 02/09/2018.
My Thoughts:
Being an old fan of Mercy Thompson, I have probably said all that I have to say about this book in my reviews of previous books in this series. Nevertheless, it is still true that this book is masterfully written and a wonderful read! However, I am not sure why this book is titled Storm Cursed though... and the ending was slightly drawn-out.

Now that Mercy has discovered her new affinity for zombies, I wonder what this new ability will do for her and for the pack in the future... and what would now happen to Wulfe, after his encounter with the Hardesty witches... and after Mercy told him to be "at peace".

Looking forward to the next Mercy Thompson book!
Empirical Evaluation:
Story telling quality = 5
Character development = 5
Story itself = 4.5
Writing Style = 5
Ending = 4.5
World building = 5
Cover art = 5
Pace = 5
Plot = 5
Narration = 5
Overall Rating:
5
out of
5 cherries
Books In The Mercy Thompson Series:
Click on the cover image to go to my review or to the GoodReads page of the book for more info.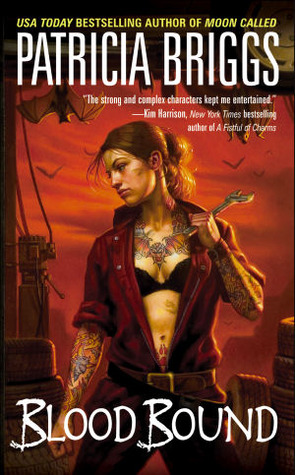 About Patricia Briggs

Patricia Briggs was born in Butte, Montana to a children's librarian who passed on to her kids a love of reading and books. Patricia grew up reading fairy tales and books about horses, and later developed an interest in folklore and history. When she decided to write a book of her own, a fantasy book seemed a natural choice. Patricia graduated from Montana State University with degrees in history and German and she worked for a while as a substitute teacher. Currently, she lives in Montana with her husband, children and six horses and writes full-time, much to the delight of her fans.

www.patriciabriggs.com | facebook | twitter | goodreads | Amazon
FTC Disclosure:
This book was purchased with private funds.
No money received for this review.