Smoke Bitten by Patricia Briggs
Book 12 of the
Mercy Thompson
series
Read by
Lorelei King
Genre:
urban fantasy
Format:
ebook & audiobook
About Smoke Bitten:
Mercy Thompson, car mechanic and shapeshifter, faces a threat unlike any other in this thrilling entry in the #1 New York Times bestselling series.

I am Mercedes Athena Thompson Hauptman.

My only "superpowers" are that I turn into a thirty-five pound coyote and fix Volkswagens. But I have friends in odd places and a pack of werewolves at my back. It looks like I'm going to need them.

Centuries ago, the fae dwelt in Underhill — until she locked her doors against them. They left behind their great castles and troves of magical artifacts. They abandoned their prisoners and their pets. Without the fae to mind them, those creatures who remained behind roamed freely through Underhill wreaking havoc. Only the deadliest survived.

Now one of those prisoners has escaped. It can look like anyone, any creature it chooses. But if it bites you, it controls you. It lives for chaos and destruction. It can make you do anything — even kill the person you love the most. Now it is here, in the Tri-Cities. In my territory.

It won't, can't, remain.

Not if I have anything to say about it.
Source:
Info in the
About Smoke Bitten
was taken from GoodReads at
https://www.goodreads.com/book/show/44571368-smoke-bitten
on 14/07/2019.
My Thoughts:
Being an old Patricia Briggs fan, of course this book is a 5 out of 5! I knew it was going to be a 5 out of 5 even before I've read it! What I didn't expect was a killer bunny! Now that, is a fun thing to read! Then there is Wulfe making more of an appearance which I love! Love! Love! And other things I love which I cannot mention here without being spoilery.... What I kinda was disappointed though is that Sherwood did not bring Pirate to the 5 o'clock meeting...

What this book is starting to feel though, is like Lt. Eve Dallas in the In Death series by JD Robb where only Dallas ever knows whodunit. That kind of gets old fast.

Not the best book in the series, however, I still enjoyed it immensely!!
Empirical Evaluation:
Story telling quality = 5
Character development = 5
Story itself = 4.5
Writing Style = 5
Ending = 4.5
World building = 5
Cover art = 5
Pace = 5
Plot = 5
Narration = 5
Overall Rating:
5
out of
5 cherries
Books In The Mercy Thompson Series:
Click on the cover image to go to my review or to the GoodReads page of the book for more info.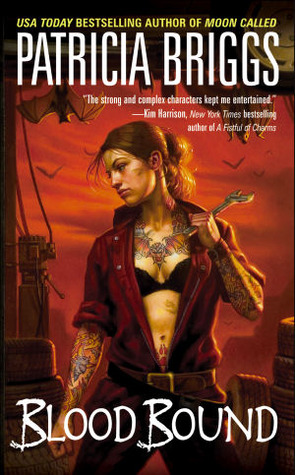 About Patricia Briggs

Patricia Briggs was born in Butte, Montana to a children's librarian who passed on to her kids a love of reading and books. Patricia grew up reading fairy tales and books about horses, and later developed an interest in folklore and history. When she decided to write a book of her own, a fantasy book seemed a natural choice. Patricia graduated from Montana State University with degrees in history and German and she worked for a while as a substitute teacher. Currently, she lives in Montana with her husband, children and six horses and writes full-time, much to the delight of her fans.

www.patriciabriggs.com | facebook | twitter | goodreads | Amazon