Misfit Angel by Stephanie Foxe
Book 2 of the
Misfit Pack
series
Narrated by
Amanda Dolan
Genre:
urban fantasy
Format:
ebook & audiobook
About Misfit Angel:
Demons are tricksters. Never forget that.

Amber made it through the Trials and is trying to rebuild her life alongside her new pack. She just wants peace.

But once you make a deal with a demon, peace is no longer an option.

As the lines between good and evil become blurred, Amber will find herself facing an impossible choice and a terrible battle. With the werewolf council breathing down her neck and a sorcerer threatening everyone she loves, she will have to depend on her pack more than ever.

And find the strength to fight back.
Source:
Info in the
About Misfit Angel
was taken from GoodReads at
https://www.goodreads.com/book/show/42643929-misfit-angel
on 03/10/2019.
Buy Link(s):
My Thoughts:
This time around, the author has added the "war of angels and demons" of the Christian faith angle to the story, which is interesting! It spiced things up! And Woggy is kinda growing on me... While still aligning the story with the series' main story arch, this book actually has a plot of it's own. Something I trully appreciated after having read a few urban fantasy books that did not. It's not thick and it's not twisty, but it is there! Kudos to this urban fantasy author!! This series is starting to really get its hooks in me! And I am happy to recommend it to all urban fantasy readers!!
Empirical Evaluation:
Story telling quality = 4.5
Character development = 4.5
Story itself = 4
Writing Style = 4.5
Ending = 3.5
World building = 5
Cover art = 4.5
Pace = 4
Plot = 4
Narration = 5
Overall Rating:
4.5
out of
5 cherries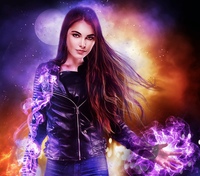 About Stephanie Foxe:
Stephanie Foxe was born and raised near Houston, TX. She grew up playing in the pond and woods in her backyard, and devouring every book she could get her hands on.

Her teen years were spent transitioning slowly from reader, to writer. She spent most evenings on the phone with her cousin writing the first few pages to many books that would never be finished.

Her adult years were spent toiling away at a corporate job until one fateful day when she heard about a little writing project called NaNoWriMo (National Novel Writing Month). From there, the idea of writing a book went from a fanciful dream to a finished manuscript. The first book in the Witch's Bite series was written, and Stephanie was addicted.

Now, she has plans to publish everything from paranormal fantasy to science fiction.

One book at a time.

Join the Newsletter to be kept updated on any new releases. Sign up today to receive Unsteady Magic, the short story prequel to the Witch's Bite series, for free!
About Amanda Dolan:
Amanda is a New York City based actor, improvisor and voiceover artist, who has recorded over 100 audiobooks. She has an MFA in acting from Brown University, and is a member of Actors' Equity.

Born in Astoria, New York, but lucky enough to have been transplanted to sunny Orange County, CA, Amanda's upbringing was a perfect mix of East meets West (And by East she means bagels, not sushi).

Amanda loves to develop new plays and musicals. She has workshopped new work with Trinity Rep, Pipeline Theater Company, Soho Rep, Marginal Man Theater Company, The Lark Play Development Center, Playwrights Rep, Brown University and many more.

In addition to stage and film work, Amanda can be heard voicing hundreds of characters in over 100 audiobooks for Audible, Inc., AudioGo (BBC Audiobooks America), Blackstone Audio, John Marshall Media, HarperCollins, and Tantor Media.
FTC Disclosure:
The different formats of this book were purchased with private funds.
No money received for this review.