Ever After Series by A.C. James
Genre:
paranormal romance
About the Ever After Series:
Book 1: ETERNAL EVER AFTER

His past holds a secret that becomes her nightmare.

Arie Cush has a secret that he thought he'd left behind. When his past follows him to Chicago he must protect someone that reminds him of all the painful memories he's tried so hard to forget. But when every touch from her sets his heart and body on fire--he finds it hard to maintain his aloof façade.

Holly Ellis has secrets of her own. An encounter with the handsome stranger who frequents her coffee shop reveals a vampire with baggage. Even though it might be more than she bargained for, she can't resist the one person who understands her. But her life is in danger and a supernatural threat could reveal the underground world of vampires to humankind in this Gothic Cinderella re-telling.


Book 2: FALLEN EVER AFTER

He can't lose her when danger strikes again.

Arie Cush wanted Holly from the very first moment he met her. A night at the Hellfire Club (HFC) is filled with old friends and new danger. The long-standing feud between the faeries that run the Chicago Crew and a lethal toxin puts Holly and other fledgling vampires in danger. Can they stop a vampire-fae war that's been brewing for nearly a century?


Book 3: BEYOND EVER AFTER

The half-demon unleashed a force that can tear them apart.

On the night, Daeveena, a half-fey, half-demon walked out of the Hellfire Club, she left a tide of destruction, but everyone figured that was the end of it. No one imagined that she would steal something so valuable. Can Arie discover who is harboring her before he loses everything?

As a special BONUS readers get Winter Promises: An Ever After Christmas Story that takes place between book one and book two!
Source:
Info in the
About the Ever After Series
was from the press kit from the publicity team.
Fall into the Ever After Series, a paranormal romance box set, by New York Times and USA Today bestselling author A.C. James. It's only available for 99 cents during preorders—Get your copy before the price goes up to $4.99!
Buy Link(s):
Cry Wolf Series by Sarah Mäkelä
Genre:
New Adult Paranormal Romance
About the Cry Wolf Series:
Book 1: THE WITCH WHO CRIED WOLF

Be careful what you wish for…

A potion gone wrong: Mia Brooks is a reluctant witch, with powers that she tries to hold in check. But when her magic gets mixed up, supernatural forces are unleashed and suddenly she's being pursued by werewolves—that she didn't even realize existed…

Hidden emotions: Ethan Parker, Mia's brother's best friend, is home from deployment for the holidays. Mia's not only hiding from werewolves, she's trying to keep her feelings for Ethan secret; it would be a disaster if he knew she's been nursing a long-time crush…

The power of love: things take a terrifying turn when Mia and Ethan are attacked by a werewolf. Ethan is amazed when Mia reveals her paranormal prowess as she tries to shield them from danger. But can she really protect them from the darkness that lurks? And how can he tell her that, for ages, he's been denying what he really wants? Mia...


Book 2: COLD MOON RISING

Passions flare when the cold moon rises…

Kelly: a normal college girl, who knows what she wants—to survive her final exams, and find someone to share her life with. Studying with Jacob is becoming too hot to handle; she's falling for him, but he's going too fast…

Jacob: a not-so-typical frat guy, who hides a secret—he's a werewolf. Whenever the moon is high, he's driven to shed his human form and satisfy his powerful desires. He craves Kelly, but she's pushing him away…

Fallout: Jacob can smell Kelly's arousal, but she insists she doesn't want sex. A wolf can only take so much before his natural instincts win out. When the tension between them explodes, Jacob has no choice but to walk…

Kidnapped! Kelly is abducted by evil scientists who've mistaken her for a female werecat and, despite their differences, Jacob has to try and find her. But it's a race against time and the lunar tides. The scientists have taken Kelly to their lab and turned her into a shapeshifter for real. The full moon is rising, and soon neither Kelly nor Jacob will be able to control their inner beasts. Who knows what the consequences will be when they are consumed by unquenchable animal lust…


Book 3: THE WOLF WHO PLAYED WITH FIRE

Some magic can't be unspun…

Meddling in magic…
If Mia Brooks could turn back time, it would be to when she used her fledgling magic to craft a potion for an injured werewolf. It nearly killed the Pack Alpha, and now the lives of her witch mentor, Jessa, and her soldier boyfriend, Ethan Parker, have been changed forever. Jessa is in hospital after a vicious werewolf attack. And, Ethan, having being bitten, is becoming a werewolf himself.

A wolf at the door…
Mia can't turn back time, but she can try to make things right with the two people she cares about most. She's keeping Jessa's shop, Eternally Magick, open, and she's there for Ethan as his inner wolf grows. But, by the next full moon, his transformation will be complete. Can she really be the mate of a half-man-half-wolf, living within the law of the Pack?

Under his spell…
Struggling to contain his new lupine senses, Ethan goes missing on active duty. When Mia realizes her werewolf lover has been abducted, she knows must harness every magic power she possesses to get him safely back…
Source:
Info in the
About the Cry Wolf Series
was from the press kit from the publicity team.
Cry Wolf Series by New York Times and USA Today bestselling author, Sarah Mäkelä, will make you howl for more. Get four incredible books for 99 cents. It won't stay that way for long. So preorder your copy today!
Buy Link(s):
About A.C. James:
New York Times and USA Today bestselling author A.C. James writes paranormal romance and erotica, including Eternal Ever After which was featured in the bestselling Spice Box anthology. She pounds out sexy scenes at her keyboard where romance is laced with horror in hot stories of vampires and bad boy werewolves. Her stories feature strong heroines and alpha heroes, with plenty of action, twists, and turns that will keep you turning pages.

A.C. resides in northeast Pennsylvania where she entertains her husband with her imaginative yarns and quirky sense of humor. She spends her time drinking large vats of coffee while taming two toddlers by day and writing by night. Recovering video game beta tester and tech geek who grew-up going to cons and watching SmackDown. There's probably some cosplay pictures around somewhere of her dressed up as Bloodberry from Saber Marionette J. Just don't tell anyone.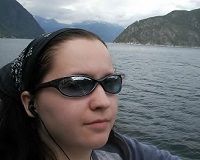 About Sarah Mäkelä:
Sarah Mäkelä loves her fiction dark, magical, and passionate. She is a paranormal romance author, but she's written all over the romance spectrum with cyberpunk, sci-fi, fantasy, urban fantasy...even a sweet contemporary romance!

A life-long paranormal fan, she still sleeps with a night light. In her spare time, she reads sexy books, watches scary movies (and Ghost Adventures), and plays computer games with her husband. When she gets the chance, she loves traveling the world too.
Grand Prize — One $50 Giftcard
5 e-book copies of Breathe by A.C. James (Contemporary Dark Erotica Story)
5 e-book copies of Jungle Heat by Sarah Mäkelä
2 audiobook copies of Eternal Ever After by A.C. James
2 audiobook copies of Cold Moon Rising by Sarah Mäkelä