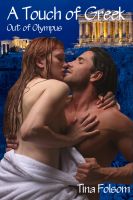 A Touch of Greek
Published: Oct. 11, 2010

Words: 84720 (approximate)
Selfish and gorgeous Greek God Triton is cast out of Olympus after seducing Zeus' mistress and can only gain reentry if he finds a woman who loves him for his kindness and selflessness, not his beauty. When the mortal Sophia - recovering from an eye operation and virtually blind - needs a home healthcare worker, he takes on the role, hoping she will be his ticket home.

While defending Sophia from an unknown adversary, Triton's protective instinct emerges. At the same time rival Gods do everything to doom him to failure. And even if Triton can win Sophia's love, will he throw it away to return home, or will he lose his own heart to the only woman who truly sees him?

A Touch of Greek is the first book in the humorous and sexy paranormal romance series Out of Olympus following the romantic adventures of four Gods: Triton, Dionysus, Eros, and Hermes.

To listen to an audio excerpt of A Touch of Greek read by the author, please visit:tinawritesromance.com/Audio_Excerpts_Trailers.html
My Review:
A Touch of Greek is the first novel by Tina Folsom that I have had the pleasure of reading, and I must say... I loved this book!
Even though this book is HOT at times, the erotica doesn't take over the romance that Tina writes. Which, by the way, is simply beautiful. Sophia and Triton face outward challenges that are both earthly and godly, while at the same time, battling issues within themselves. The intense situations and emotional trials kept me turning pages at a steady pace.
Unlike some erotic romances that I have read, A Touch of Greek had an interesting and deeply thought out plot. The story intertwined with the romance was fresh and original, and the characters were easy to relate with. Yes, even Triton. Even though he is a God, he has real issues to deal with.
The erotic portions of the book were done with class and taste. Tina incorporated steamy scenes into her book without taking over the story or making it sound like a porn show. They were very well written and made the book better, rather than worse.
A Touch of Greek was a very pleasant read. Tina Folsom's writing flowed well and kept me interested from start to finish.
Not only is the romance beautiful, the erotic moments HOT, and the plot intense, but her writing is so easy to read and flows perfectly.
This is a story that will leave you with a smile on your face and a glow in your heart. I look forward to reading more of Tina's books, especially others in the "Out of Olympus" series!
My Rating: 4 moons!