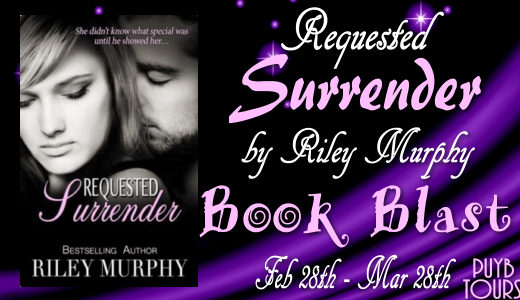 Requested Surrender by Riley Murphy
Book 4 of the
Trust In Me
series
Genre:
erotic romance
About Requested Surrender:
She knows he's dangerous for a woman like her.

He knows she's perfect for a man like him.

From their first meeting, David Hollan is intrigued because Lacy Pembrook is subconsciously hiding someone. Herself. And David wants to know why. He's patient at first. Willing to give her space, but when she breaks the rules they've set between them, he's ready to hold her accountable. One way or another, he's going to find the piece of her that's yet to be uncovered. And when he does? He intends to own it.

Given an ultimatum after she got caught coloring outsides the lines of their "trial" relationship, Lacy decides to fall in with David's plans. She'll cancel her trip and spend her vacation time at his house making up for her transgression. No sweat, right? Wrong. What she doesn't count on when she gets there is him going full-out Dom on her. She quickly learns why they call him the quiet one. He's dead sexy, watchful and stern at the best of times, and now that he has her all to himself, each of those things are magnified tenfold.

By the time Lacy realizes that he's completely subjugated her—by way of an emotional striptease—it's too late. She's bared her soul to him, so when he requests her surrender she has no choice but to give it to him. Or does she?
Source:
Info in the
About Requested Surrender
was from the press kit from the publicity team.
Book Trailer: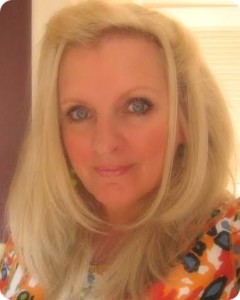 About Riley:
Riley Murphy writes sexy, humorous and emotional romance, happy ending guaranteed. An optimist, she believes life is awesome, people are complicated, but in a good way, and we should never stop learning. Riley currently resides in Florida with her gorgeous husband. She has two wonderful kids and one very bossy English Bull terrier she has dubbed 'The divine One'. When Riley's not working she enjoys reading, oil painting and getting to the Sunday crossword puzzle before anyone else does, so she can fill-in all the easy answers first. If Riley wasn't a writer she'd be an international spy with top-level security so she could have a peek at Area 51 and decide for herself if those green guys are for real. Failing that she'd probably go with chicken sexer. Riley loves to hear from readers.

To learn more about her or her upcoming releases swing by her website and say hello at: www.AuthorRileyMurphy.com or connect with her on twitter @Riley__Murphy where she's always sharing her deep-dark secrets.
Terms & Conditions:
By entering the giveaway, you are confirming you are at least 18 years old.
One winner will be chosen via Rafflecopter to receive one $25 Amazon Gift Certificate or Paypal Cash.
This giveaway begins February 28 and ends March 28.
Winners will be contacted via email on Monday, March 31.
Winner has 48 hours to reply.
Good luck everyone!