Anne Marsh
who was the talent behind the highly awaited paranormal romance,
BOND WITH ME
!
Anne
will be guest blogging with us as today's stop for the
BOND WITH ME VIRTUAL BLOG TOUR
. And thank you very much
Anne
for
brewing a bit of mischief
being with us at Cherry Mischievous
:)
...and don't forget to stick around until the end of Anne's blog post for the chance to bag yourself some wonderful prizes!
Without further ado, let me give you...
Anne Marsh
!!!
Stone Soup and Sex: Cooking up BOND WITH ME One Sexy Ingredient at a Time
Stone soup bears a remarkable resemblance to sex in my opinion. Many of us are probably familiar with the old folk story about stone soup: strangers arrive in a rather unfriendly (OK, downright hostile) village and trick the inhospitable villagers into providing all the ingredients required for a lavish and tasty soup. Writing a great sex scene is rather similar to making stone soup, or so I've found. You have to coax your imagination into giving you the ingredients you need to make a kick-ass spicy book.
Author:
I'd like to write a really hot love story.
Imagination:
Fine. You want it, you write it. Don't ask me for anything—I haven't got any plot points for you.
Author:
No problem—I have everything I need. I'm just going to start with this here plot rock: "Once open a time, there was a sexy alpha hero who met a feisty heroine. They fell in love and shared some really hot sex. The end." This is going to be the best and hottest book ever!
Imagination:
Ooookay. Really? You can make a whole book out of that?
Author:
Sure. All I need is one more ingredient: a really intriguing hero. Someone sexy and dark. A little exotic and more than a little dangerous. Can you help me out?
Imagination:
I suppose that's not too difficult. What if he's a fallen angel—and what he wants, more than anything, is to go back to the Heavens? But not because he's some sort of saint (that would be laudable but kinda boring). No, what he wants is revenge—because he was set up to take the fall for an archangel's crime. He lost his wings for someone else's crime.
Author:
Fabulous! Now our book is tasting better! But I think we need just one
more ingredient. Something to spice the hero up so he's not just an innocent victim. Can you help me make him a real bad boy?
Imagination:
Well… OK. What if he isn't exactly sweetness and light? Let's make him a master seducer. An expert in making sensual fantasies come to life— for a price. A piece of your soul. That ought to complicate things between the hero and the heroine. She's going to resent him for the
ownership bid, even while the sexy dom aspect intrigues her.
Author:
Yes! My hero gets his price—and then he realizes he wants something more. He doesn't want the heroine for just a little hot loving (although they're pretty darn combustible together). He wants her. For eternity. He makes the mistake of falling in love with her—even though she has every intention of leaving him as soon as she finds her cousin. And then it turns out she's his soul mate—the one woman in the world who can restore his wings. He has to convince her to stay if he wants to go back to the Heavens.
One last ingredient and I think our soup is done… can you give me
Something to spice up the sex scenes? Just a little?
Imagination:
What if, when you agree to bond with a fallen angel, there's a special ritual? A special sexual ritual—one that is witnessed by other fallen angels?
Author:
Ooh—a little voyeurism with a hint of ménage. That will work….
Little by little, the book comes together and your imagination kicks into overdrive and soon you've got your hands full of a sexy, determined alpha male conquering a bookful of obstacles to meet his heroine. What elements do you like in your sexy scenes?
Anne will be giving away: (CLOSED)
For one randomly drawn commenter: a gift package consisting of an autographed copy of
The Hunt
, a mother-of-pearl shell, shell necklace, tiare-scented bath salts, two monoi lotions, and monoi oil, all from Bora Bora ($75 value). Winners will be picked by
Anne
. Visit and comment in the other virtual blog tour stops to increase your chances of winning! Below is a list blog stops
Anne
will be visiting for this tour: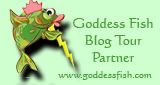 September 6:
D. Renee Bagby Presents First Chapters
September 7:
My Disorganized Ramblings
September 8:
Paranormal and Romantic Suspense Reviews
September 9:
Cherry Mischievous
September 10:
Book Junkie
September 13:
Bad Girls (and Boys) Writer's Block
September 14:
Alisha Paige
September 15:
Simply Ali
September 16:
You Gotta Read Reviews
September 17:
Authors by Authors
Stalk
Anne
at:
site:
http://annemarsh.wordpress.com/books
twitter:
http://twitter.com/sexygoblins
(@sexygoblins)
Facebook:
http://www.facebook.com/pages/Anne-Marsh/339393391812
(Anne Marsh)
They rule Moscow's seedy underworld, promising untold pleasure to the females who dare to mate them. That promise – and Brends Duranov's own raw sexual power – has hopefuls mobbing the velvet rope outside his elite club G2's.

But Mischka Baran has no intention of hooking up with one of the Fallen. Not even after Brends gives her an unforgettable taste of the sin and seduction he can deliver with those wicked lips. She's after information, not a stint as some Goblin's toy of the month. What she doesn't know is that with a sadistic killer carving up his brethren, Brends is playing for keeps, hunting the one woman whose bloodline can end the mayhem, whose bond can restore his lost wings.