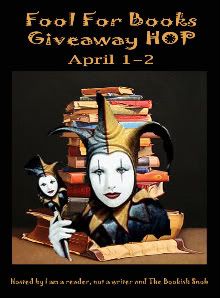 Win £10 BookDepo book!
What is a giveaway hop?
Simple - Each participating blog hosts a giveaway and then we link up together allowing our followers to hop easily from one giveaway to another. For followers that means lots of chances to win free books. For host blogs it means lots of new visitors and followers. It's a win-win!
The
Fool For Books Giveaway Hop
is hosted by
I Am A Reader, Not A Writer
&
The Bookish Snob
. It will take place on April 1st & 2nd.
Each blog will host their own giveaway. There is no requirement on the minimum or maximum value of the giveaway. It can be books, swags, amazon gift cards, or anything else that has to do with books.
All participating blogs will be linked up through a Fool For Books Giveaway linky.
This is what you can win here at Cherry Mischievous:
Prize:
£10 Book Depository book of your choice
Contest is open to
international
readers, subject to BookDepo shipping limitations.
To Enter:
All you have to be is a follower of this blog to be entered and leave a comment on this post with a way to contact you, preferably an email add.
You have to be a follower via Google Friend Connect to be eligible for the draw.
If you are not yet a follower, just click that "Follow" button on the sidebar to get included in the draw. And then leave a comment in this post with your email add. Or, if you don't want to leave an email add, check back after April 2 to see if you won. Or email it to me at cherrymischif-foolforbooks [at] yahoo [dot] com with the name/alias you are using to enter this contest so that I could marry your email add with your entry.
If you are already a follower, the same goes with the comment and a way to contact you.
Please note that you have to make a comment in this contest post to indicate your interest in winning to be entered in the draw.

Because I've drawn a random follower before and he didn't want the prize because he wasn't interested. So now, a follower needs to indicate their interest to be entered...

If you've already won in previous contests here at Cherry Mischievous, it does not disqualify you from winning again. That means previous winners have equal chances of winning as much as the other followers who hasn't won anything yet at Cherry Mischievous.
Extra Entries:
A participant of this contest gets one extra entry credit every time he/she spreads the word about this contest after verification of the url address or "proof" given in the comment. However, only one extra entry will be credited per site. Like for example, you can tweet as many times as you like but that will count only as one extra entry credit. Although we do appreciate it if you tweet multiple times about this contest!
Contest Ends:
Rules:
Open only to Cherry Mischievous followers (via Google Friend Connect). Because the main reason I am hosting this contest in the first place is to reward my readers, therefore this contest is for followers only :)

Not yet a follower? Just click the "FOLLOW" button on the sidebar. Easy peasy!
Then post a comment with a way to contact you in this contest post.

This contest is open internationally. However, since the prize is a BookDepo book, it also means that this contest is limited to countries where BookDepo ships to. Please check if your country is one of those where BookDepo will ship to before entering this contest. Please see here for the list of countries where BookDepo ships to: http://www.bookdepository.co.uk/help/topic/HelpId/27/Countries-we-ship-to-with-free-delivery#helpContent.
Winner will be picked among the followers who commented. Winner have one week to claim prize otherwise prize will become forfeit or as stated in the winner announcement post.
Please note that cover art used in this post for the prizes are stock photos, they may not match the cover art of the book(s) that you will get.
Void where prohibited.
Questions? Ask! cherrymischif-foolforbooks [at] yahoo [dot] com.
Please read the blog's Disclaimer as it forms part of the contest rules. By entering this contest you declare that you have read the terms in the Disclaimer and agrees to be bound by said terms.
Go visit the other blogs in this hop and get your chance to win more bookish prizes!