Today we have 12 books coming out that I know of and almost all of them urban fantasy. Of course, being an urban fantasy reader, I am all but drooling... and here they are folks:
Banished by Sophie Littlefield
Genre:
YA, urban fantasy
About Banished:
S

ixteen-year-old Hailey Tarbell can't wait for the day she'll leave Gypsum, Missouri, far behind, taking only four-year-old Chub, the developmentally-delayed little boy her cruel drug-dealing grandmother fosters for the state money. But when a freak accident in gym class leaves a girl in critical condition, Hailey feels drawn to lay her hands on the injured girl and an astonishing healing takes place. Before Hailey can understand her new powers, a beautiful stranger shows up...just in time to save her and Chub from hired killers. A desperate race begins, with Hailey as the ultimate prize: there are those who will stop at nothing to harness her gifts to create an undefeatable army of the undead. Now it is up to Hailey and a small but determined family of healers to stand up to the unbelievable and face the unthinkable.
Source: Info in the About Banished was taken from the author's website at http://www.sophielittlefield.com/YA/books.php on 12/10/10.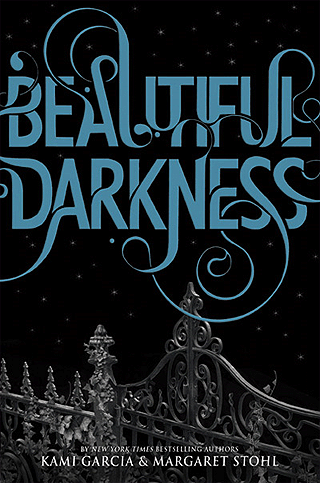 Ethan Wate used to think of Gatlin, the small Southern town he had always called home, as a place where nothing ever changed. Then he met mysterious newcomer Lena Duchannes, who revealed a secret world that had been hidden in plain sight all along. A Gatlin that harbored ancient secrets beneath its moss-covered oaks and cracked sidewalks. A Gatlin where a curse has marked Lena's family of powerful supernaturals for generations. A Gatlin where impossible, magical, life-altering events happen.

Sometimes life-ending.

Together they can face anything Gatlin throws at them, but after suffering a tragic loss, Lena starts to pull away, keeping secrets that test their relationship. And now that Ethan's eyes have been opened to the darker side of Gatlin, there's no going back. Haunted by strange visions only he can see, Ethan is pulled deeper into his town's tangled history and finds himself caught up in the dangerous network of underground passageways endlessly crisscrossing the South, where nothing is as it seems.
Source: Info in the About Beautiful Darknesswas taken from GoodReads at http://www.goodreads.com/book/show/7842288-beautiful-darkness on 06/10/10.
Elixir by Hilary Duff
Genre:
YA, urban fantasy
About Elixir:
As the daughter of a renowned surgeon and a prominent Washington D.C. politician, Clea Raymond has felt the glare of the spotlight her entire life. And though she dreads the paparazzi who track her every move, she herself is a talented photojournalist who takes refuge in a career that allows her to travel to the most exotic parts of the world.

But after Clea's father disappears while on a humanitarian mission, eerie, shadowy images of a strange and beautiful young man begin to appear in Clea's photos—a man she has never seen in her life.

When Clea suddenly encounters this man in person she is stunned—and feels an immediate and powerful connection. As they grow closer, they are drawn deep into the mystery behind her father's disappearance and discover the centuries-old truth behind their intense bond.

Torn by a dangerous love triangle and haunted by a powerful secret that holds their fate, together they race against time to unravel their past in order to save their future—and their lives.
Source: Info in the About Elixir was taken from GoodReads at http://www.goodreads.com/book/show/7844725-elixir on 12/10/10.
A story about getting into college. You know, taking the campus tour, talking to the gargoyles, flirting with the were-tigers, riding the dragons...

While visiting the campus of Princeton University, 16-year-old Lily discovers a secret gate to a magical realm and must race against time to save herself, her world, and any hope she has of college admission.
Source: Info in the About Enchanted Ivy was taken from the author's website at http://www.sarahbethdurst.com/EnchantedIvy.htm on 12/10/10.
Fatal Error by F. Paul Wilson
Book 14 of the
Repairman Jack series
Genre:
urban fantasy
About Fatal Error:
The End of the World is at hand!

Munir Habib's life has become a nightmare. His tormentor has warned Munir not to report the kidnapping of his family, or else they will pay a terrible price. A friend realizes something is terribly wrong and tells Munir he doesn't have to go to the cops. There's a guy who fixes situations like this-Repairman Jack. Jack is backed into helping Munir despite his ongoing involvement in the cosmic shadow war between the Ally and the Otherness. Or perhaps because of it. He's chafing at being forced into the defensive role of protecting the Lady, the physical embodiment of the consciousness of the planet Earth.

Meanwhile, the Septimus Order and the Kickers are seemingly working in concert on a plot to extinguish the Lady and open the way for the Otherness to take over our reality. To top it all off, Dawn Pickering finally goes into labor and delivers a baby she only glimpses as it's whisked away, and is terrified by what she sees. Later she's told the baby died, but she doesn't believe it. Neither does Weezy. Neither does Jack. All these interlocking plots mean doom for humanity. But Jack never gives up or gives in.
Source: Info in the About Fatal Error was taken from GoodReads at http://www.goodreads.com/book/show/7978457-fatal-error on 12/10/10.
Sam leads a pretty normal life. He may not have the most exciting job in the world, but he's doing all right—until a fast food prank brings him to the attention of Douglas, a creepy guy with an intense violent streak.
Turns out Douglas is a necromancer who raises the dead for cash and sees potential in Sam. Then Sam discovers he's a necromancer too, but with strangely latent powers. And his worst nightmare wants to join forces . . . or else.

With only a week to figure things out, Sam needs all the help he can get. Luckily he lives in Seattle, which has nearly as many paranormal types as it does coffee places. But even with newfound friends, will Sam be able to save his skin?
Source: Info in the About Hold Me Closer, Necromancer was taken from GoodReads at http://www.goodreads.com/book/show/8041873-hold-me-closer-necromancer on 12/10/10.
Passion Play by Beth Bernobich
Book 1 of the Erythandra Series
Genre:
fantasy romance
About Passion Play:
The daughter of one of Melnek's more prominent merchants, Ilse Zhalina has lived most of her life surrounded by the trappings of wealth and privilege. She has wanted for nothing and many would consider her lot a most happy one. But there are dark secrets even in the best of families and Isle and the women in her family have learned that to be beautiful and silent is the best way to survive.

However, when Ilse fianlly meets the colleague of her father's selected to marry her, she realizes that this man would lock in her a gilded cage. In her soul, she knows he is far crueler and more deadly than her father could ever be.

Ilse chooses to run from this life. Her choice will have devastating consequences and she will never be the same.

But she will meet Raul Kosenmark, a man of mystery who is the master of one of the land's most notorious pleasure houses…and who is, as Ilse discovers, a puppetmaster of a different sort altogether. Together they will embark on a journey that will reshape their world.

Lush fantasy. Wild magic. Political intrigue and the games of seduction and treachery to gain control of a kingdom. PASSION PLAY is all of these and more. It is the journey of a woman who must conquer her passions in order to win all that she desires.
Source: Info in the About Passion Play was taken from GoodReads at http://www.goodreads.com/book/show/3292046.Passion_Play on 12/10/10.
BROOKLYN: Andi Alpers is on the edge. She's angry at her father for leaving, angry at her mother for not being able to cope, and heartbroken by the loss of her younger brother, Truman. Rage and grief are destroying her. And she's about to be expelled from Brooklyn Heights' most prestigious private school when her father intervenes. Now Andi must accompany him to Paris for winter break.

PARIS: Alexandrine Paradis lived over two centuries ago. She dreamed of making her mark on the Paris stage, but a fateful encounter with a doomed prince of France cast her in a tragic role she didn't want—and couldn't escape.

Two girls, two centuries apart. One never knowing the other. But when Andi finds Alexandrine's diary, she recognizes something in her words and is moved to the point of obsession. There's comfort and distraction for Andi in the journal's antique pages—until, on a midnight journey through the catacombs of Paris, Alexandrine's words transcend paper and time, and the past becomes suddenly, terrifyingly present.

Jennifer Donnelly, author of the award-winning novel A Northern Light, artfully weaves two girls' stories into one unforgettable account of life, loss, and enduring love. Revolution spans centuries and vividly depicts the eternal struggles of the human heart.
Source: Info in the About Revolution was taken from GoodReads at http://www.goodreads.com/book/show/7558747-revolution on 12/10/10.
Stork by Wendy Delsol
Genre:
YA, urban fantasy
About Stork
Sixteen-year-old Katla has just moved from Los Angeles to the sticks of Minnesota. As if it weren't enough that her trendy fashion sense draws stares, she learns to her horror that she's a member of an ancient order of women who decide to whom certain babies will be born. Add to that Wade, the arrogant football star whom Katla regrettably fooled around with, and Jack, a gorgeous farm boy who initially seems to hate her. Soon Katla is having freaky dreams about a crying infant and learns that, as children, she and Jack shared a near-fatal, possibly mystical experience. Can Katla survive this major life makeover and find a dress for the homecoming dance? Drawing from Norse mythology and inspired by The Snow Queen by Hans Christian Andersen, debut author Wendy Delsol conceives an irreverent, highly entertaining novel about embracing change and the (baby) bumps along the way.
Source: Info in the About Stork was taken from GoodReads at http://www.goodreads.com/book/show/7638313-stork on 12/10/10.
A fantastical reimagining of the American West which draws its influence from steampunk, the American western tradition, and magical realism

The world is only half made. What exists has been carved out amidst a war between two rival factions: the Line, paving the world with industry and claiming its residents as slaves; and the Gun, a cult of terror and violence that cripples the population with fear. The only hope at stopping them has seemingly disappeared the Red Republic that once battled the Gun and the Line, and almost won. Now they're just a myth, a bedtime story parents tell their children, of hope.

To the west lies a vast, uncharted world, inhabited only by the legends of the immortal and powerful Hill People, who live at one with the earth and its elements. Liv Alverhyusen, a doctor of the new science of psychology, travels to the edge of the made world to a spiritually protected mental institution in order to study the minds of those broken by the Gun and the Line. In its rooms lies an old general of the Red Republic, a man whose shattered mind just may hold the secret to stopping the Gun and the Line. And either side will do anything to understand how.
Source: Info in the About The Half-Made World was taken from GoodReads at http://www.goodreads.com/book/show/8198773-the-half-made-world on 12/10/10.
The Lost Hero by Rick Riordan
Book 1 of the Heroes Of Olympus series
Genre:
YA, urban fantasy
About The Lost Hero:
Jason has a problem. He doesn't remember anything before waking up on a school bus holding hands with a girl. Apparently she's his girlfriend Piper, his best friend is a kid named Leo, and they're all students in the Wilderness School, a boarding school for "bad kids." What he did to end up here, Jason has no idea—except that everything seems very wrong.

Piper has a secret. Her father has been missing for three days, and her vivid nightmares reveal that he's in terrible danger. Now her boyfriend doesn't recognize her, and when a freak storm and strange creatures attack during a school field trip, she, Jason, and Leo are whisked away to someplace called Camp Half-Blood. What is going on?

Leo has a way with tools. His new cabin at Camp Half-Blood is filled with them. Seriously, the place beats Wilderness School hands down, with its weapons training, monsters, and fine-looking girls. What's troubling is the curse everyone keeps talking about, and that a camper's gone missing. Weirdest of all, his bunkmates insist they are all—including Leo—related to a god.
Source: Info in the About The Lost Hero was taken from GoodReads at http://www.goodreads.com/book/show/7736182-the-lost-hero on 12/10/10.
The Maze was only the beginning...

Solving the Maze was supposed to be the end. No more puzzles. No more Variables. And no more running. Thomas was sure that escape meant he and the Gladers would get their lives back. But no one really knew what sort of life they were going back to.

In the Maze, life was easy. They had food, and shelter, and safety... until Teresa triggered the end. In the world outside the Maze, however, the end was triggered long ago.

Burned by sun flares and baked by a new, brutal climate, much of the earth is a wasteland. Government has disintegrated--and with it, order--and now Cranks, people covered in festering wounds and driven to murderous insanity by the infectious disease known as the Flare, roam the crumbling cities hunting for their next victim... and meal.

The Gladers are far from done running. Instead of freedom, they find themselves faced with another trial. They must cross the Scorch, the most burned-out section of the world, and arrive at a safe haven in two weeks. And WICKED has made sure to adjust the variables and stack the odds against them.

Thomas can only wonder--does he hold the secret of freedom somewhere in his mind? Or will he forever be at the mercy of WICKED?
Source: Info in the About The Scorch Trials was taken from GoodReads at http://www.goodreads.com/book/show/7631105-the-scorch-trials on 12/10/10.
I can only drool because I do not have the money to buy all of that! What does these releases tell us? That the market is now inundated with YA and urban fantasy books... old news really... That there is actually a great demand for YA and urban fantasy now? Probably... me being an urban fantasy geek, who am I to argue with that? That the competition is becoming ever fiercer? Yeah, because I could not afford all of these books, I have to pick and choose which ones to buy... What do
you
think about this flood of YA & urban fantasy?