Misfit Fortune by Stephanie Foxe
Book 3 of the
Misfit Pack
series
Narrated by
Amanda Dolan
Genre:
urban fantasy
Format:
ebook & audiobook
About Misfit Fortune:
It's the brightest light that casts the deepest shadows…

Magic, blood, and politics hide an enemy the pack never saw coming. One with more power than anyone understands.

Enemies are closing in on all sides, but they're nothing more than a distraction to hide the real threat. It isn't just the pack at risk –– not anymore.

Magic itself is being threatened.

Amber and her pack are trapped in the middle of a centuries long war, and the time has come to pick a side.

But it's a choice she won't be able to take back.

Nothing is as it seems. Trust is a valuable commodity that is sorely lacking in an increasingly dangerous world.

Amber must step up and take her place in the game, shattering illusions and pulling the truth from the shadows.
Source:
Info in the
About Misfit Fortune
was taken from GoodReads at
https://www.goodreads.com/book/show/45214932-misfit-fortune
on 17/10/2019.
Buy Link(s):
My Thoughts:
Being the third book, I can say with confidence that this series is a keeper!

At first I did not like the way Ceri is keeping secrets because it seems like the start of the breaking-up of the pack! It soon made sense after reading a little bit further.

The author has added a new twist to the "war of angels and demons" christian mythology that I was not really expecting, and it spiced things up a little bit more! Way to go Stephanie Foxe!!
Empirical Evaluation:
Story telling quality = 5
Character development = 5
Story itself = 5
Writing Style = 4.5
Ending = 4
World building = 5
Cover art = 4.5
Pace = (12 hrs & 10 mins listening time)
Plot = 4
Narration = 5
Overall Rating:
5
out of
5 cherries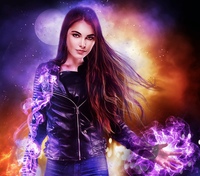 About Stephanie Foxe:
Stephanie Foxe was born and raised near Houston, TX. She grew up playing in the pond and woods in her backyard, and devouring every book she could get her hands on.

Her teen years were spent transitioning slowly from reader, to writer. She spent most evenings on the phone with her cousin writing the first few pages to many books that would never be finished.

Her adult years were spent toiling away at a corporate job until one fateful day when she heard about a little writing project called NaNoWriMo (National Novel Writing Month). From there, the idea of writing a book went from a fanciful dream to a finished manuscript. The first book in the Witch's Bite series was written, and Stephanie was addicted.

Now, she has plans to publish everything from paranormal fantasy to science fiction.

One book at a time.

Join the Newsletter to be kept updated on any new releases. Sign up today to receive Unsteady Magic, the short story prequel to the Witch's Bite series, for free!
About Amanda Dolan:
Amanda is a New York City based actor, improvisor and voiceover artist, who has recorded over 100 audiobooks. She has an MFA in acting from Brown University, and is a member of Actors' Equity.

Born in Astoria, New York, but lucky enough to have been transplanted to sunny Orange County, CA, Amanda's upbringing was a perfect mix of East meets West (And by East she means bagels, not sushi).

Amanda loves to develop new plays and musicals. She has workshopped new work with Trinity Rep, Pipeline Theater Company, Soho Rep, Marginal Man Theater Company, The Lark Play Development Center, Playwrights Rep, Brown University and many more.

In addition to stage and film work, Amanda can be heard voicing hundreds of characters in over 100 audiobooks for Audible, Inc., AudioGo (BBC Audiobooks America), Blackstone Audio, John Marshall Media, HarperCollins, and Tantor Media.
FTC Disclosure:
The different formats of this book were purchased with private funds.
No money received for this review.