Mind Over Magic by Lindsay Buroker
Book 1 in the
Witch In Wolf Wood
series
Narrated by
Vivienne Leheny
Genre:
urban fantasy
Format:
ebook & audiobook
About Mind Over Magic:
As a bookish, introverted database programmer, Morgen Keller never thought she was a candidate for a midlife crisis. That was before her husband divorced her, her boss let her go, and her grandmother died. Forty wasn't supposed to look like this.

When Morgen heads up to the small town of Bellrock, Washington, to settle the estate, she looks forward to taking a peaceful break from life and figuring out what she's going to do next.

But peace isn't to be had. The old farmhouse is full of witch paraphernalia, a fearsome werewolf has claimed the property, and contrary to what the family was told, Grandma didn't die of natural causes.

Embroiled in a mystery, and heir to powers she knew nothing about, Morgen must turn to the only person who might be able to help: the werewolf who threatened to rip her throat out for trespassing.

This isn't the fresh start on life that Morgen had in mind
Source:
Info in the
"About Mind Over Magic"
was taken from GoodReads at
https://www.goodreads.com/book/show/58933375-mind-over-magic
on 17/04/2022.
Buy Link(s):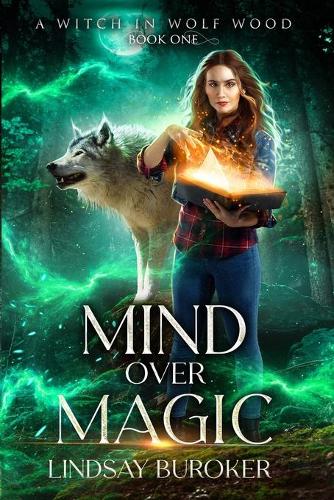 My Thoughts:
This is my second series by Lindsay Buroker and Vivienne Leheny so I am kind of familiar with these two's work. But after two books into the Death Before Dragons series,my following stalled. For several years. And I am not sure if I am going to be picking it up again. The series did not have a staying power. This book however, looks very promising. So, buying the second book in the Witch In Wolf Wood series and fingers crossed.

This book wasn't that easy to get into. It took a lot perseverance to get to the halfway point. However, it did pick up towards the end.

The plot was a bit thin on the graound. But this is urban fantasy, not crime fiction, so I was not looking for plot twists. I was looking for a rollicking magical adventure in this modern world that is realistic. This book has it!

The ending was a cliffhanger of course but at least it sort of resolved the main dilemma in the book.
Evaluation:
Story telling quality = 4.5
Character development = 4
Story itself = 4
Writing Style = 4
Ending = 3
World building = 4.5
Cover art = 5
Pace = (7 hrs and 25 mins listening time)
Plot = 2.5
Narration = 5
Overall Rating:
4
out of
5 cherries
Books In The Witch In Wolf Wood Series:
About Lindsay Buroker:
Full-time indie fantasy/scifi author who loves hiking, tennis, and vizslas.
About Vivienne Leheny:
For over two decades, Vivienne Leheny has worked professionally in New York City and Los Angeles as an actor, voiceover artist and writer. She's appeared on Off-Broadway and regional theatre stages, been screened at numerous film festivals (including Sundance in the 2019 opening night film: AFTER THE WEDDING), toured the northeast doing stand-up, and her writing has been published in national publications.

Vivienne has built a successful audiobook narration business, reading under her own name as well as under the pseudonyms, "Nola Zandry" and "Lily Collingwood." She has a home studio and records using punch & roll software. Currently narrating six ongoing series, she also has numerous stand-alone book narrations, all of which are doing brisk sales on Audible, Amazon and iTunes. She's narrated titles for Harper Collins, Macmillan, Recorded Books, and Simon & Schuster, among other audiobook publishers.

Vivienne will soon be recording her 150th audiobook narration.

Her audiobook narration course, The Voice in their Ear, has been a sell-out Maine Media Workshops+College, where she's also taught her Putting Your Voice to Work: Building a Career in Voiceover curriculum, while her Breaking Into Audiobooks seminar for the SAG Foundation fills up quickly and with long wait lists. She's also taught audiobook narration at the Caymichael Patten Studio.

She's recorded over a thousand promotions for NBC programming (Saturday Night Live, Nightly News, Days of our Lives, Late Night with Conan O'Brien), including over a decade with The Today Show. She's also done promotional spots for HBO, Showtime, and Bravo. Vivienne has voiced numerous national commercial campaigns, including Coca Cola, Fruit of the Loom, Florida Orange Juice, Bristol Meyers Squibb, Maxwell House and Revlon.

Her narration work has run the gamut, from Chain Gang Girls on Oxygen to Charles and Di: Once Upon a Time on TLC, from Fine Living's Esquire's Man at His Best to the six-part series Killer Outbreaks on Animal Planet, where she was the voice of the Bubonic Plague and West Nile Virus. She's also the voice for the mysterious and disturbing "Phoenix Project" in the popular video game Assassin's Creed, Unity.
FTC Disclosure:
The ebook and audiobook were bought with private funds.
No money received for this review.