Fused In Fire by K. F. Breene
Book 3 of the
Fire & Ice Trilogy
Read by
Nicole Pole
Genre:
urban fantasy
Format:
ebook & audiobook
About Fused In Fire:
The gripping conclusion of the bestselling Fire and Ice Trilogy!

I'd thought the threat from Seattle was finished. That we showed up in time and took care of business.

I hate being wrong. It really ruins my day.

When Roger, the alpha of the North American pack, shows up at my door with the news that a demon has made it to the Underworld with knowledge of me, some hard decisions have to be made.

Do I stay above ground, with all my magical friends, and wait for the battle to come to me? Or do I seek the demon out, and pluck the threat out by the root?

I don't want my friends to die on my behalf. I could never live with myself. But if I venture into the Underworld, it'll be the most perilous journey of my life.

This time, it isn't just my life hanging in the balance, it is my eternity.
Source:
Info in the
About Fused In Fire
was taken from GoodReads at
https://www.goodreads.com/book/show/35835728-fused-in-fire
on 03/06/2018.
My Thoughts:
Being the third instalment in a trilogy, this book did conclude the story arc of the series. However, it was pretty lame. That "gripping conclusion" description in the synopsis is not true. Maybe I was expecting too much, maybe it was the book and just didn't cut it. Whatever the reason this book disappointed me a little. It doesn't mean it isn't a good book because it is. Just not as good as I expected it to be. The plot is still the same kind of non-existent. The world building is also the same, as beautiful as ever. And I am now a firm fan of the narrator. What wasn't a plus was the heroine blundering from one fight into another and saved by sheer dumb luck. **sigh**
Empirical Evaluation:
Story telling quality = 4.5
Character development = 4.5
Story itself = 3
Writing Style = 4
Ending = 4
World building = 5
Cover art = 4.5
Pace = 4
Plot = 2
Narration = 5
Overall Rating:
3.5
out of
5 cherries
Books In The Fire & Ice Trilogy Series: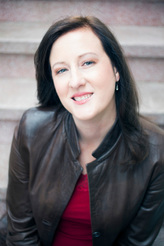 About K. F. Breene:
K.F. Breene is a USA Today Bestselling and Top 10 Kindle All-Star author of paranormal romance, urban fantasy and fantasy novels. With two million books sold, when she's not penning stories about magic and what goes bump in the night, she's sipping wine and planning shenanigans. She lives in Northern California with her husband, two children and out of work treadmill.

[Source: Info in the "About K. F. Breene" was taken from the author's website at: http://www.kfbreene.com/bio]
FTC Disclosure:
The ebook and audiobook copies of the book were purchased with private funds.
No money received for this review.