Borrowed Magic by Stephanie Foxe
Book 1 in the
Witch's Bite
series
Narrated by
Laurel Schroeder
Genre:
urban fantasy
Format:
ebook & audiobook
About Borrowed Magic:
A witch with a troubled past and a dangerous secret...
And bills to pay.

Peddling legal potions isn't enough, so Olivia Carter works for the vampires now. She heals the people they feed on and does her best to avoid any trouble. She has a new boyfriend, a place to live (pay no mind to the rats living under the porch), and a cauldron for every occasion. Building a life in a new town isn't easy, but Olivia is doing alright.

When the police show up at her door trying to pin a murder on her employer, and then her, she'll have to risk everything to save her only friend and her future.

All magic has a price. Are you willing to pay it?
Source:
Info in the
About Borrowed Magic
was taken from GoodReads at
https://www.goodreads.com/book/show/36310899-borrowed-magic
on 19/10/2019.
My Thoughts:
Short and sweet!

Borrowed Magic may read like a book but it is so short, it is more like a novella. The print version is only 146 pages long. Having said that, it did manage to have a plot, which is more than I can say for a lot of full lentgh urban fantasy books that I have read. Plot-less-ness seems to be a plague in the urban fantasy genre! And of course, it ended in a cliffhanger, but only to point to the plot of the next book in the series. The plot in this one, actually sort-of resolved.

I first encountered this narrator in Dragon's Gift: Valkyrie by Linsey Hall, I didn't like her singsong then and I still don't like it now.
Empirical Evaluation:
Story telling quality = 5
Character development = 4.5
Story itself = 4.5
Writing Style = 5
Ending = 4
World building = 5
Cover art = 4.5
Pace = 5
Plot = 3
Narration = 3
Overall Rating:
4.5
out of
5 cherries
Books In The Witch's Bite Series: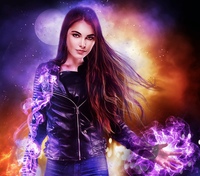 About Stephanie Foxe:
Stephanie Foxe was born and raised near Houston, TX. She grew up playing in the pond and woods in her backyard, and devouring every book she could get her hands on.

Her teen years were spent transitioning slowly from reader, to writer. She spent most evenings on the phone with her cousin writing the first few pages to many books that would never be finished.

Her adult years were spent toiling away at a corporate job until one fateful day when she heard about a little writing project called NaNoWriMo (National Novel Writing Month). From there, the idea of writing a book went from a fanciful dream to a finished manuscript. The first book in the Witch's Bite series was written, and Stephanie was addicted.

Now, she has plans to publish everything from paranormal fantasy to science fiction.

One book at a time.

Join the Newsletter to be kept updated on any new releases. Sign up today to receive Unsteady Magic, the short story prequel to the Witch's Bite series, for free!
About Laurel Schroeder:
Laurel Schroeder is a classically trained actor who received her MFA in acting from the University of Houston. She's narrated over 100 audiobooks, and although her genres vary widely, she's particularly fond of narrating young adult and mystery novels. When not in the booth working on her latest project, she can sometimes be seen in film or on stage, most recently in the world premiere of Good for Otto, by Tony Award–winning playwright David Rabe. A Colorado native, she now lives in Chicago with her boyfriend and their dog, the cutest little troublemaker you ever did see.
FTC Disclosure:
The different formats of this book were purchased with private funds.
No money received for this review.