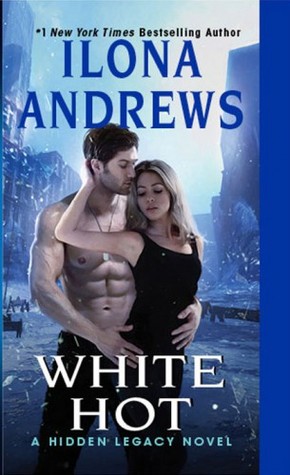 White Hot by Ilona Andrews
Book 2 of the
Hidden Legacy
series
Read by
Renee Raudman
Genre:
urban fantasy
Format:
paperback, ebook, & audiobook
About White Hot:
The Hidden Legacy series by #1 New York Times bestselling author Ilona Andrews continues as Nevada and Rogan navigate a world where magic is the norm…and their relationship burns hot

Nevada Baylor has a unique and secret skill — she knows when people are lying — and she's used that magic (along with plain, hard work) to keep her colorful and close-knit family's detective agency afloat. But her new case pits her against the shadowy forces that almost destroyed the city of Houston once before, bringing Nevada back into contact with Connor "Mad" Rogan.

Rogan is a billionaire Prime — the highest rank of magic user — and as unreadable as ever, despite Nevada's "talent." But there's no hiding the sparks between them. Now that the stakes are even higher, both professionally and personally, and their foes are unimaginably powerful, Rogan and Nevada will find that nothing burns like ice …
Source:
Info in the
About White Hot
was taken from GoodReads at
https://www.goodreads.com/book/show/22303684-white-hot
on 09/06/2017.
My Thoughts:
As usual, Ilona Andrews, delivers! But then again I am an old die-hard fan of this author duo, so I am admittedly biased. But having said that, it does not belie the fact that this book is a fantastic read! Being the second book in the series, the world building and character development has already been established in Book 1. And those masterful world building, character development, and story telling quality are carried on with this book, as expected. Safe to say that this is a 5 out of 5 read! The only down side is that I have to wait for the next book and I am not very patient! :( And being Book 2 in the series, I suggest that one read Book 1 first before reading this book. It'll just make more sense. And, you wouldn't be cheating yourself out of the wonderful reading experience of reading this series in order rather than out of order.
Empirical Evaluation:
Story telling quality = 5
Character development = 5
Story itself = 4.5
Writing Style = 5
Ending = 4.5
World building = 5
Cover art = 4
Pace = 4
Plot = 5
Narration = 4.5
Overall Rating:
5
out of
5 cherries
Hidden Legacy Books: