The Bridesmaid And The Hurricane by Kelly Maher
Genre:
modern romance
About The Bridesmaid And The Hurricane:
A one-weekend stand over a year ago, and now they're coworkers...

Being a woman in TV is hard enough, but when the boss is trying to derail Radhika O'Leary's career from behind the scenes, she has to make sure every aspect of her work—and her life—stands up to scrutiny.

Of course, the double standard is alive and well and Malcolm Jones, the broadcast meteorologist known as "Colm" to his friends and "The Hurricane Hottie" to his fangirls, knows that fame can hurt just as much as it helps. When Colm moves to DC, he's excited to work with Radhika—her professional reputation is sparkling, and so are the kisses they shared that one weekend over a year ago when he was in town covering a blizzard.

But when Radhika is paired up with Colm for a project, all she sees is a looming storm over her carefully constructed career. Sparks still fly between the two journalists, and if they're not careful, lightning might strike and alter the course of their lives forever.
Source:
Info in the
About The Bridesmaid And The Hurricane
was from the press kit from the publicity team.
Buy Link(s):
Excerpt:
Once they got inside the cafeteria, they went their separate ways to order their lunches. Stacey came back as Radhika was waiting on the veggie burger she'd ordered. "Did you get fries to go with that?"

"Yes."

"Can you get a second order? I've been dying for some."

"Sure." She put in the request and they came up with the burger.

They went through the check out and Radhika put it all on her company account. They found an empty table over in one of the corners. Less chance of being interrupted. "How did the segment go?"

"Really good. I managed to get in all of the information I wanted to about the show and we still had a little time left over, so I talked a bit about how part of the proceeds go to help charity."

"That's great."

"Yeah. Hopefully, if someone doesn't go to the play, they'll still consider donating." She lifted one shoulder and dug into her bowl of chicken noodle soup.

The noise level in the cafeteria lifted like a small wave building into a bigger one. Radhika looked over and quickly found the reason. Colm. She wondered if this was his first turn in the cafeteria. Like if he knew that tour groups sometimes ended up here. Today, there was a bunch of high schoolers and some family groups. High-pitched squeals echoed every few seconds as he stopped to take pictures she was sure would be posted to the internet right after he walked away.

"Wow. Is that him?"

Radhika turned back to find Stacey staring at Colm slack jawed. "Mm-hmmm."

Stacey leaned in. "And you hit that?" She held up her hand for a high-five.

Radhika let her hang.

"Hey, I'm trying to congratulate you."

"You realize that's crass."

"So?" She pointed at her still raised hand with her other index finger. "High-five back, bitch."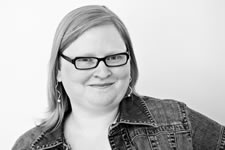 About Kelly:
Foiled in her attempts to pursue a career in Forensic Anthropology due to a fatal incomprehension of calculus, Kelly turned to a life of telling people where to go, AKA librarianship. She then took another page out of her idol Indiana Jones' playbook and renamed herself after the dog, writing tales of romance of varying heat levels and erotica. She currently splits her time working on new writing projects and at the day job in a federal library in Washington, DC.