BLOOD TIES
Season 1, Episode 1
Starring
Christina Cox
,
Dylan Neal
, and
Kyle Schmid
as the core cast. Brought to you by
Insight Film Studios
and
Chum Television
.
Genre:
urban fantasy
Format:
iTunes download
About Blood Ties:
Blood Ties is a Canadian television series based on the Blood Books by Tanya Huff; the show was created by Peter Mohan. It is set in Toronto, Canada and has a similar premise to an earlier series also set in Toronto, Forever Knight, in which a vampire assists police in dealing with crime. It premiered in the United States on March 11, 2007 on Lifetime Television, and during fall of 2007 on Citytv and Space in Canada. In May 2008, Lifetime declined to renew the series.

Plot
Blood Ties, set in Toronto, Ontario, centres around Christina Cox as Vicki Nelson, a former Toronto Police Service who left the force to become a private investigator after beginning to lose her eyesight, due to a beginning Retinopathia Pigmentosa. Through her work she teams up with the 470-year-old vampire Henry Fitzroy, who happens to be the illegitimate son of Henry VIII. The mutual attraction between them is complicated by Vicki's relationship with former partner and lover, Mike Celluci. In the beginning, he doesn't believe in the supernatural and thinks that Vicki is losing her mind along with her eyesight. Also in the picture is Vicki's assistant Coreen, who was hired because of her knowledge of the occult and to keep her quiet about Henry. Coreen is thoroughly enamored with both the occult and Henry, which can get her into trouble.
Source:
Info in the
About Blood Ties
was taken from http://en.wikipedia.org/wiki/Blood_Ties_%28TV_series%29 on 19/01/2013.
Show Trailer:
Show Links:
Blood Ties at Wikipedia
imdb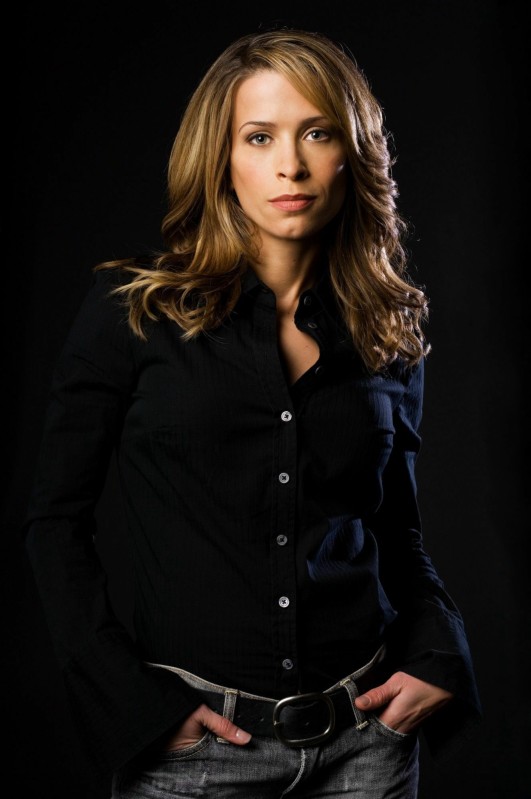 Review:
It took a few "sessions" for me to just finish one little episode and am I ever so glad that I did not buy the whole dvd box set! I love the premise and the world building! But for some reason it dragged. Big time! And of course being only the first episode of a Season, it ended in a cliffhanger. But still I do not have any desire to buy further into this series. I want to know what happens next, of course, but I could make a pretty good guess and am fairly confident that I would be right. And I don't deem this show worth my money, so am not buying anymore. I also find the main character, Vicki Nelson, a bit lame. I am not sure whether it is the acting or the character getting angry at her ex-partner, Mike Celluci, for no reason that made her character lame. Or a little of both. Probably. Either way, it did not endear the character to me, at all. The world building is marvellous even though it is not very original. But then again I am an urban fantasy girl so vampire stories is always going to draw me in. The mixing of live actors/physical set and animated software looks professionally done and brought the fantastical elements of the show to life but despite that it still did not hold my attention for very long. Me, urban fantasy geek. With a vampire show. That tells me that this show is not for me, geek or not.
Empirical Evaluation:
Cinematography = 4.5
character Development = 2 Script/Story Itself = 3
Episode Ending = (cliffhanger)
World building = 4.5
Attention To Detail = 3
Plot = (cliffhnager ending/no clear plot)
Acting = 4.5
Overall Rating:
3
out of
5 cherries