Remember When by JD Robb
Book 17.5 of the
In Death
series
Narrated by
Susan Ericksen
Genre:
SciFi murder mystery, police investigation, crime fiction
Format:
paperback, (unabridged) audiobook
About Remember When:
Laine Tavish is an ordinary woman living an ordinary life in the small town of Angel's Gap, Maryland, as the proprietor of Remember When, an antique treasures and gift shop. At least, that's what everyone in Angel's Gap thinks. They have no idea that she used to be Elaine O'Hara, daughter of the notorious con man Big Jack O'Hara. Or that she grew up moving from place to place, one step ahead of the law . . .

Laine's past has just caught up with her, though-in a very dramatic way. Her long-lost uncle suddenly turned up in her shop, leaving only a cryptic warning before dying in the street, run down by a car. Soon afterward, her home is ransacked. Now it's up to Laine, and a sexy stranger named Max Gannon, to find out who's chasing her, and why.

The answer lies in a hidden fortune-a fortune that will change not only Laine's life but also the lives of future generations. And danger and death will surround that fortune for years to come. Until New York City detective Lieutenant Eve Dallas gets on the case.

A thrill-ride of a novel that blends present-day romance and futuristic suspense, Remember When is a tale of deceit and secrets, of strong women and fascinating men-a brilliant combination of the incomparable talents of the two sides of Nora Roberts.
Source:
Info in the
About Remember When
was taken from GoodReads at http://www.goodreads.com/book/show/369778.Remember_When on 04/07/2012.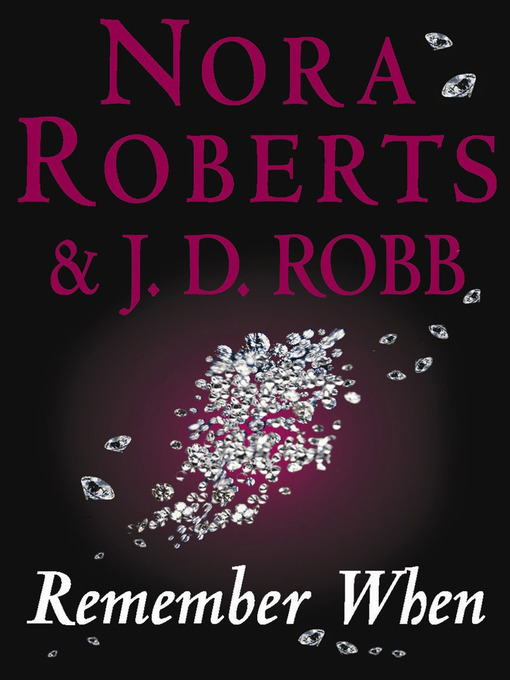 Review:
This book is not so much about the murder anymore as previous books always were but a story about an antique store called Remember When. In fact Lt. Eve Dallas wasn't in it at all! I like this deviation in pattern. It breaks the monotony. It makes this book not just another same old, same old. I was also wondering why this book was tagged as "Book 17.5" in the series when the hardback version is 458 pages long. That kind of tagging is usually reserved for novellas or short stories which is part of the series. But this book is not a short story. Being 458 pages long, the book is a full novel. It lends me to think that the tagging is not because this book is a short story but because it is not of the main In Death series but an offshoot book. I mean it plays in the same world (more or less) but not the same characters. In fact, we don't see any of our old beloved characters in this book at all. It presents a totally different set of protagonists! But it still purports the same compelling story telling quality that Nora Roberts/JD Robb is known for!

Another thing different here is that the series usually calls lipstick a "lip dye", it being in the future with more advanced society than the current one (theoretically). But in this book, "lipstick" is repeatedly used. It also used "Ibuprofen" instead of a "blocker" for pain. Then I realized that chronologically the events in this book took place a whole lot closer to our time thus old history for the time of Lt. Eve Dallas.

Overall though I liked it that this book is different from the rest of the series yet still delivers the same reading pleasure that is JD Robb! I'd give this book a 4.5 out of 5.
Empirical Evaluation:
Story telling quality = 4.5
Character development = 4.5
Story itself = 4.5
Ending = 4.5
World building = 5
Cover art = 2
Pace = N/A (16 hrs and 16 mins audiobook)
Plot = 4.5
Narrator = 4
Overall Rating:
4.5
out of
5 cherries
Thank you to the
RCT Library
for letting me borrow this book!!
FTC Disclosure:
The hardback edition of this book was borrowed from the library. The audiobook was purchased with personal funds. No money received for this review.