Seven Up by Janet Evanovich
Book 7 of the
Stephanie Plum
series
Narrated by
Tanya Eby
Format:
audiobook
Genre:
crime fiction chicklit
About Seven Up:
In SEVEN UP, Stephanie Plum is dropped into a smorgasbord of murder, kidnapping, and extortion - a magnificent buffet of fast cars, fast men and fast food. Stephanie Plum think she's going after an easy FTA: a senior citizen charged with smuggling contraband cigarettes. But when she and Lula show up at his house, they get more than they bargained for - a corpse in the woodshed and an old man on the lam. Stephanie's mind is on other matters, however, because she has two proposals to consider: vice cop Joe Morelli is proposing marriage, and fellow bounty hunter Ranger is proposing a single perfect night . . .
Source:
Info in the
About Seven Up
was taken from at http://www.goodreads.com/book/show/15459067-seven-up on 01/10/2012.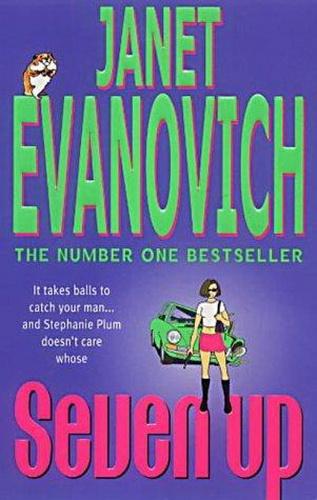 Review:
Tanya Eby is a new narrator to me and it took a bit of getting used to after having listened to CJ Critt for the last six books.

Like the previous books in this series, Seven Up also started off slow but picked up halfway through and speeded up all the way to the end. I already knew this pattern from previous books so I persevered for the first half of the book knowing that I would have a rocking good time towards the end and this book, in a way, did.

This series has never failed to give me "laugh-out-loud" moments except this book. That was a bit of a downer! This series lost a lot of brownie points because of that. Because the humour between the pages is this series' greatest asset and that failed in this book.

The cover art though, both on the audiobook and print, remained obnoxiously boring!
Empirical Evaluation:
Story telling quality = 3
Character development = 3.5
Story itself = 2
Ending = 3
World building = 3.5
Cover art = 1
Pace = N/A
Plot = 3.5
Narrator = 3.5
Overall Rating:
2.5
out of
5 cherries