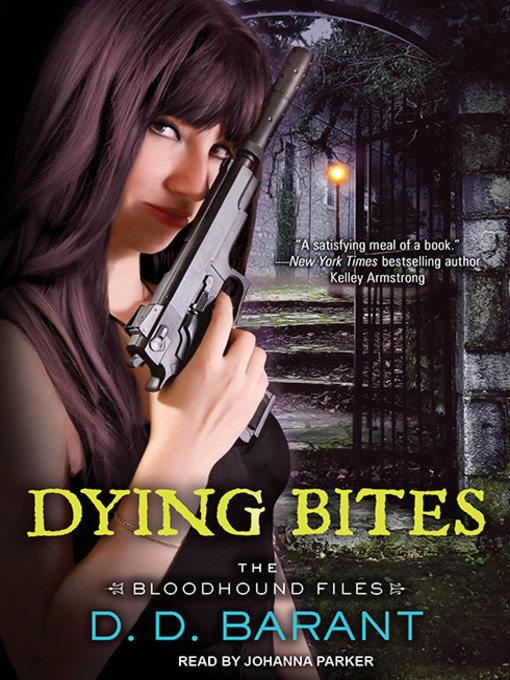 Dying Bites by DD Barant
Read by
Johanna Parker
Book 1
of
The Bloodhound Files
series
Genre:
urban fantasy
Format:
paperback & audiobook
About Dying Bites:
Her job description is the "tracking and apprehension of mentally-fractured killers." What this really means in FBI profiler Jace Valchek's brave new world—one in which only one percent of the population is human—is that a woman's work is never done. And real is getting stranger every day…

Jace has been ripped from her reality by David Cassius, the vampire head of the NSA. He knows that she's the best there in the business, and David needs her help in solving a series of gruesome murders of vampires and werewolves. David's world—one that also includes lycanthropes and golems—is one with little knowledge of mental illness. An insane serial killer is a threat the NSA has no experience with. But Jace does. Stranded in a reality where Bela Lugosi is a bigger box office draw than Bruce Willis and every full moon is Mardi Gras, Jace must now hunt down a fellow human before he brings the entire planet to the brink of madness. Or she may never see her own world again…
Source:
Info in the
About Dying Bites
was taken from GoodReads at http://www.goodreads.com/book/show/6295913-dying-bites on 26/09/2012.
Narrative Evaluation:
I decided to pick this series up just because I won Book 3 from a blog contest and thus sits in my TBR shelf occupying space I am fast running out of. But me being me, I cannot read a series by jumping to Book 3. I have to start from Book 1, thus this book got read. Plus the fact that I am an old Johanna Parker fan, so when I learned that she is the narrator for this audiobook, it got bought. This would also be the first Johanna Parker audiobook I've listened to which is not a Sookie Stackhouse book. And after listening to 11 Sookie Stackhouse books, Johanna Parker's voice is now associated with Sookie in my head. So much so that when I first listened to this audiobook I had a bit of a disorientation and Sookie's world merged for a time with Jace's world that DD Barant has created. Or maybe it is just a warning telling me maybe I ought to ease up on the urban fantasy books... Nah!!! Anyway the world building is wonderful and I would love to see more of this alternate universe of lycanthropes and pires!

It was interesting in the beginning and I was excited to listen to it. Then it kind of slowed down a bit in the middle and didn't pick up again until the very end. If I was reading this paperback without listening to the audiobook format, I would say that it was alright, but wasn't very fast.

At the end of it, I enjoyed this book and have the next book on request at the library already. So I would say, it's a good start to a promising series!
Empirical Evaluation:
Story telling quality = 4
Character development = 4
Story itself = 4
Ending = 4
World building = 4
Cover art = 4.5
Pace = 3 (9 hours of listening time)
Plot = 3.5
Narrator = 5
Overall Rating:
4
out of
5 cherries
Thank you to the
RCT Library
for letting me borrow this book!!
FTC Disclosure:
The audiobook format was purchased with personal funds. The paperback was borrowed from the library. No money received for this review.