At today's blog tour stop, we have the pleasure of having the wonderful company of
Michael the Archangel
!!!
And I would like to apologize in advance if my questions sounded a bit generic! When I prepared the interview questions I did not know that
Michael
would descend upon us :), but
Michael
has cool answers:
• First of all... please tell us a little more about yourself.
I think enough has been written about me that most people know who the hell I am. I am the Archangel Michael and if Lucifer ever has the nerve to come crawling out of that cesspool known as Hell, I'm going to take out that back-stabbing son of a bitch.
• Are you into reading books? If so, what is your reading list?
Who has the time to read? I leave that kind of crap to my mate, Tory. Though I have to admit, I do enjoy the parts where the bad guys die. Especially when it's a demon getting sliced and diced. It warms my soul.
• If you could have one superpower, what would it be? What kind of power would you choose?
Sweetheart, I was the first superhero. Though that laser thing Superman does with his eyes is pretty damn cool. I'd love to be able to do that.
• What is the scariest thing you've ever done?
Falling in love. Christ, I sound like a pussy but there you go. I never thought anyone could bring me to my knees, especially one tiny woman, but Tory owns my soul.
• If you suddenly come to have $1M, what would you do?
If only money could solve my problems, I'd hire dozens of new warriors and wipe the demons from the face of the Earth. Unfortunately, the angel populace is shrinking, not growing. And humans are far too fragile; they have a tendency to die.
Thank you so much for being with us today
Michael
!!!!
Now here is the scoop about My Avenging Angel:
To save her life, he must break a covenant—and lose his heart.

An Angels and Demons story.

It's Victoria Bloom's twenty-fifth birthday. But is she out celebrating? Oh, no. She's in a stuffy old attic with the Three Stooges—a.k.a. her so-called spirit guides. There's a demon who wants her dead, the same one that killed her mother two decades ago. No worries, say the Stooges. All she has to do is summon an angel. What could go wrong?

Well, plenty when you summon the wrong angel. The next thing Tory knows, she's got one very bad-ass, pissed-off and sexy Archangel on her hands.

Michael, mighty warrior, leader of an elite team of demon killers, is shaking in his heavenly combat boots. Not because he finds all humans distasteful. But because he'd rather face Lucifer himself than the woman his soul has just recognized as his mate. Binding himself to a mortal, one who will eventually die, is the one path he's sworn never to follow.

It's too late now; his fate is sealed. With one touch, she becomes as necessary to him as the air he breathes. He will move heaven and earth to protect her—but against a demon as powerful as Asmodeus, heaven and earth may not be enough…
Source
: Info in the
Now here is the scoop about My Avenging Angel
was taken from the publisher's website at
http://www.mybookstoreandmore.com/avenging-angel-p-5715.html
on 11/06/2010.
Author Link:
Madelyn Ford
Publisher Link:
Samhain Publishing Ltd.
Blog Tour Link:
Goddess Fish
Buy Link(s):
Samhain Publishing Ltd.
Giveaway:
Madelyn
will be giving away a $15 Amazon gift certificate to one randomly drawn commenter from the blog stops. To enter, leave a comment on the blog stops (listed below) -- enter at every stop each day to earn more entries!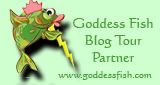 This blog tour was courtesy of
GoddessFish
. The tour stops:
June 7
Book Junkie
June 8
Savage Hunter
June 9
Love Romance Passion
June 10
J.A. Saare
June 11
Travel The Ages
June 14
Cherry Mischievous
June 15
The Book Junkie's Bookshelf
June 16
From The Shadows
June 17
You Gotta Read Reviews
June 18
Taste of Kiwi
*Disclaimer: Tour images (tour logo/banner at top and My Avenging Angel cover art tour image) were provided by
GoddessFish
. The angel image below the tour banner is from the internet and is assumed to be under the Common License.