Raised In Fire by K. F. Breene
Book 2 of the
Fire & Ice Trilogy
Read by
Nicole Pole
Genre:
urban fantasy
Format:
ebook & audiobook
About Raised In Fire:
It is a common truth in my life that when it rains, it pours.

The killings that once plagued New Orleans are cropping up again in Seattle. The local office is stumped. I'm called out to lend a fresh set of eyes, and my unique magical touch.

It's only when I get there that I realize the Seattle office isn't stumped at all.

They're being silenced by the Mages' Guild, a corrupt magical institution that doesn't want word to get out of what is plaguing the city. Worse, news of my magic might've slipped down to the underworld, hitting the ears of some extremely powerful demons.

What I thought was a routine murder investigation turns into a fight for my life. With the help of Darius, my stalker elder vampire, and my dual-mage side kicks, I somehow have to dodge the Guild in order to stop one of the most powerful demons I've ever encountered. If I don't? It'll escape back down below with proof of what I really am.

My life hangs in the balance, and this time, I can't see a way out.
Source:
Info in the
About Raised In Fire
was taken from GoodReads at
https://www.goodreads.com/book/show/35117913-raised-in-fire
on 01/06/2018.
My Thoughts:
This time this book went quicker than Born In Fire. However, for some reason, Roger's visit felt out of line. Logically, he can do what he did. But it felt kinda jarring and it doesn't add up somehow. The plot though is still the same straight-forward-ish. No twists, no surprises. Having said that, it is the journey that made it interesting, not the end itself. The ending, although it closed the story line while continuing on the series' story arc, was kind of anticlimactic. It wasn't a bang. The anticipation build-up in the book did not match the ending. However, I had the next book by then so I wasn't too disappointed.
Empirical Evaluation:
Story telling quality = 4.5
Character development = 4.5
Story itself = 3
Writing Style = 4
Ending = 4
World building = 5
Cover art = 4.5
Pace = 4
Plot = 3.5
Narration = 5
Overall Rating:
4
out of
5 cherries
Books In The Fire & Ice Trilogy Series: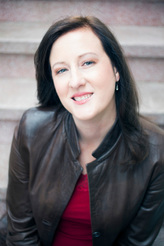 About K. F. Breene:
K.F. Breene is a USA Today Bestselling and Top 10 Kindle All-Star author of paranormal romance, urban fantasy and fantasy novels. With two million books sold, when she's not penning stories about magic and what goes bump in the night, she's sipping wine and planning shenanigans. She lives in Northern California with her husband, two children and out of work treadmill.

[Source: Info in the "About K. F. Breene" was taken from the author's website at: http://www.kfbreene.com/bio]
FTC Disclosure:
The ebook and audiobook copies of the book were purchased with private funds.
No money received for this review.