Fair Game by Patricia Briggs
Book 3 in the
Alpha & Omega
series
Genre:
urban fantasy
Format:
ebook & paperback
About Fair Game:
They say opposites attract. And in the case of werewolves Anna Latham and Charles Cornick, they mate. The son — and enforcer — of the leader of the North American werewolves, Charles is a dominant alpha. While Anna, an omega, has the rare ability to calm others of her kind.

Now that the werewolves have revealed themselves to humans, they can't afford any bad publicity. Infractions that could have been overlooked in the past must now be punished, and the strain of doing his father's dirty work is taking a toll on Charles.

Nevertheless, Charles and Anna are sent to Boston, when the FBI requests the pack's help on a local serial killer case. They quickly realize that not only the last two victims were werewolves — all of them were. Someone is targeting their kind. And now Anna and Charles have put themselves right in the killer's sights...
Source:
Info in the
About Fair Game
was taken from GoodReads at
https://www.goodreads.com/book/show/7942786-fair-game
on 01/02/2018.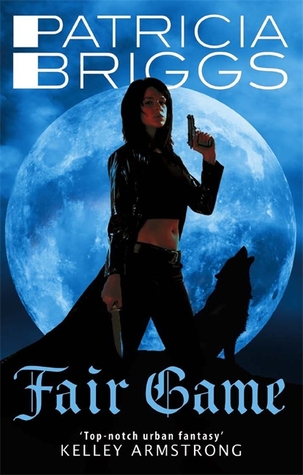 My Thoughts:
This is the first book in the series that got tantric magic in it, even including the original Mercy Thompson series. That was unexpected... With Hunting Ground, I was not so very enthusiastic about this series despite me being a big fan of Patricia Briggs. However by this book I became a devotee of this series. It finally got its hook on me after all these years! The darkness of the first novella which was the first entry into this series is now far, far away... So now I got to enjoy this author's marvellous story telling quality again without that darkness looming over my reader's head. So I enjoyed another great read from Patricia Briggs! What ticks me off though is the ugly cover art of the UK edition of this book! Why can't they keep Dan delos Santos' amazing art??! And the Anna depiction of the UK cover art is not even apropos to the story! Whats that all about!! So the cover art rating I gave for this book relates to the US cover as opposed to the UK cover.
Empirical Evaluation:
Story telling quality = 5
Character development = 4.5
Story itself = 4.5
Writing Style = 4.5
Ending = 4.5
World building = 5
Cover art = 4.5
Pace = 5
Plot = 4
Overall Rating:
4.5
out of
5 cherries
Books In The Alpha & Omega Series:
About Patricia Briggs

Patricia Briggs was born in Butte, Montana to a children's librarian who passed on to her kids a love of reading and books. Patricia grew up reading fairy tales and books about horses, and later developed an interest in folklore and history. When she decided to write a book of her own, a fantasy book seemed a natural choice. Patricia graduated from Montana State University with degrees in history and German and she worked for a while as a substitute teacher. Currently, she lives in Montana with her husband, children and six horses and writes full-time, much to the delight of her fans.

www.patriciabriggs.com | facebook | twitter | goodreads | Amazon
FTC Disclosure:
This book was purchased with private funds.
No money received for this review.