Unleashed by Emily Kimelman
Book 1 of
The Sydney Rye Mysteries
series
Narrated by
Sonja Field
Genre:
chick flick crime fiction
Format:
ebook & audiobook
About Unleashed:
The Sydney Rye series of mysteries features a strong female protagonist and her rescue dog, Blue. This series is recommended for the 18+ who enjoy some violence, don't mind dirty language, and are up for a dash of sex. Not to mention an awesome, rollicking good mystery!

When the series begins Sydney Rye is named Joy Humbolt. She does not like people telling her what to do, so it comes as no surprise that she was just fired from her last job. When she buys Charlene Miller's dog-walking business on Manhattan's exclusive upper east side, it seems like the perfect fit: Quiet environment, minimal contact with people.

But then one of her clients turns up dead, and Charlene disappears. Rumors say Charlene was having an affair with the victim — and of course, everyone assumes Joy must know where she is. Joy begins to look into the crime, first out of curiosity then out of anger when there is another murder and threats start to come her way.

When police detective Mulberry is assigned to the case, Joy finds a kindred spirit — cynical and none-too-fond of the human race. As they dig deep into the secrets of Manhattan's elite, they not only get closer to the killer but also to a point of no return. One last murder sends Joy Humbolt hurtling over the edge. Her only chance of survival is to become Sydney Rye.
Source:
Info in the
About Unleashed
was taken from GoodReads at
https://www.goodreads.com/book/show/34219190-unleashed
on 22/02/2019.
My Thoughts:
This is a soft chick flick crime fiction. So don't expect any hard boiled crime anything. The plot is good for a chick flick but not twisty or substantial enough for a true a crime fiction. And while we get our HEA (happily ever after) it left one main thread hanging. Which I think will be answered in subsequent books, I guess. The first chapter of the next is provided at the end of this book, so we know that the next book starts exactly where this book ended. Which gives a feel of just one big book chopped up into sections. I guess it is, for this series. At first I thought that this book has supernatural elements, but nope! Just pure chick lit crime fiction. So much like the Stephanie Plum series by Janet Evanovitch.

This is my first Sonja Field listen and I like the way she reads. Her voice is also not aggravating to the ears. Kudos to the narrator!!
Empirical Evaluation:
Story telling quality = 4
Character development = 4
Story itself = 4
Writing Style = 4
Ending = 4
World building = 4.5
Cover art = 4
Pace = 4.5
Plot = 4.5
Narration = 4.5
Overall Rating:
4
out of
5 cherries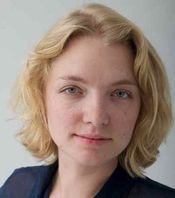 About Emily Kimelman:
Emily Kimelman not only writes adventure, she lives it every day. Embodying the true meaning of wanderlust, she's written her Sydney Rye mysteries from all over the world. From the jungles of Costa Rica to the mountains of Spain, she finds inspiration for her stories in her own life.

While living under communist rule in the former Soviet Union, the KGB sprinkled her with "spy dust", a radioactive concoction that made her glow and left a trail they could follow. She was two.

She was destined for amazing things after that, and she continues to find adventure to inspire characters like the badass Sydney Rye.

Download the first Sydney Rye Thriller, Unleashed, for FREE on all major ebook platforms and join the adventure!
About Sonja Field:
Sonja is an American voice and accent coach based in London.

After graduating with a BFA in Acting from Carnegie Mellon, Sonja worked for several years as a professional actor in theaters across the U.S. She then obtained an MFA in Voice Studies from the Royal Central School of Speech & Drama.

She has coached both students and teachers at Eton College, The National Opera Studio, the Royal College of Music, and professional theatre productions in London. She has worked with professionals across industries: from civil servants in Leeds, to founders of successful Silicon Valley start-ups, to Broadway performers.

Sonja has taught voice and accents at drama schools such as Royal Welsh College of Music and Drama, ALRA, London College of Music, and E15.

In addition to coaching, Sonja is a professional voiceover artist and audiobook narrator.
FTC Disclosure:
The different formats of this book were purchased with private funds.
No money received for this review.