Magic In My Bones by Kellie Sheridan
Book 1 of the
Lesser Magicks
series
Genre:
urban fantasy
Format:
ebook
About Magic In My Bones:
My name is Melanie Sinclair, and as far as anyone knows, I've been dead since the day I was born.

More than twenty years ago, I was smuggled into Ireland to be raised where the magical community would never find me. Two decades of hiding. Two decades of pretending to be less than I am, blending in with the lesser magicks--those whose abilities are of little interest to the beings in power.

My true fate may not remain a secret much longer.

Humanity is getting too close to learning about a world they may not be ready to handle. In order to fight the growing threat of exposure, the supernatural world will be hosting a summit in Galway, in my city, bringing all of the people my family died to protect me from right to my doorstep.

So much for the luck of the Irish.
Source:
Info in the
About Magic In My Bones
was taken from GoodReads at https://www.goodreads.com/book/show/35904631-magic-in-my-bones on 20/01/2019.
My Thoughts:
Promising start to a new-to-me series.

I don't know if the author have read the Mercy Thompson series by Patricia Briggs or not, but the story arc with this series, as surmised from this book, is awfully similar to that of the Mercy Thompson series. Of course there are a few deviations like the heroine is not a coyote but a "combination of all magics"... la di bla... But, close enough that it was what made me continue reading this book in the first place. It feed my Mercy Thompson fix craving. So the theme has been around the block a few times too many, however, I do not mind non-originality. What I want is "how the story is told" quality and this book is good. Good enough to make me want to continue reading into this series. Having said that, it wasn't really that which made me buy the second book in this series but because this book ended in a cliffhanger. While it ended the plot in this book, it also left a lot of threads hanging for the next book to get bought. I usually do not like this strategy, but I understand that the publishing industry is a business.
Empirical Evaluation:
Story telling quality = 4
Character development = 4
Story itself = 3.5
Writing Style = 4
Ending = 3
World building = 4.5
Cover art = 2.5
Pace = 3.5
Plot = 3
Overall Rating:
4
out of
5 cherries
Books In The Lesser Magicks Series: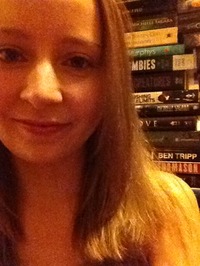 About Kellie Sheridan:
Kellie has been in love with stories in all of their forms for as long as she can remember. Admittedly, sometimes that means falling into places like Stars Hollow and Sunnydale, but books have always been her true love.

Kellie spent part of her twenties living in Galway, Ireland and swooning after various lilting accents but is now back home in Ontario, Canada.
FTC Disclosure:
This book was purchased with private funds.
No money received for this review.