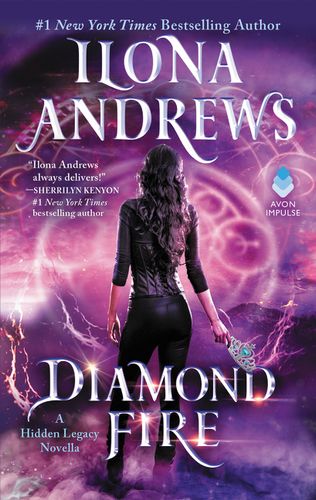 Diamond Fire by Ilona Andrews
Book 3.5 of the
Hidden Legacy
series
Read by
Renee Raudman
and
Emily Rankin
Genre:
urban fantasy
Format:
ebook & audiobook
About Diamond Fire:
Nevada Frida Baylor and Connor Ander Rogan cordially invite you to join their wedding celebration. Summoning, weather manipulation, and other magical activities strictly forbidden.

Catalina Baylor is looking forward to wearing her maid of honor dress and watching her older sister walk down the aisle. Then the wedding planner gets escorted off the premises, the bride's priceless tiara disappears, and Rogan's extensive family overruns his mother's home. Someone is cheating, someone is lying, and someone is plotting murder.

To make this wedding happen, Catalina will have to do the thing she fears most: use her magic. But she's a Baylor and there's nothing she wouldn't do for her sister's happiness. Nevada will have her fairy tale wedding, even if Catalina has to tear the mansion apart brick by brick to get it done
Source:
Info in the
About Diamond Fire
was taken from GoodReads at
https://www.goodreads.com/book/show/39320167-diamond-fire
on 17/11/2018.
Buy Link(s):
My Thoughts:
Catalina has always been the quite one and it seems like we don't really see much of her. So it was interesting to read the story from her perspective... I wanted the story to be still about Nevada and Rogan, but I understand that, that story arc is now done. But, maybe this tangent story arc wouldn't be so bad... As usual, the story telling quality is compelling. The world building has been established a long time ago with book 1, and the wonderfulness of it is carried through in this book too. This book being a novella, is too short a read. So the pace is quite quick. The plot is thicker than I expected of an urban fantasy book, and a novella at that. Not much room to get twisty. Yet the author accomplished a thicker plot, which is a great bunos!

I've never listened to Emily Rankin before and I like the way she reads Catalina. Her young voice fits Catalina too. Her and Renee Raudman's performance is awesome!! Looking forward to listening to the next book in this series.
Empirical Evaluation:
Story telling quality = 5
Character development = 5
Story itself = 4.5
Writing Style = 5
Ending = 4.5
World building = 5
Cover art = 4
Pace = 5
Plot = 5
Narration = 4.5
Overall Rating:
5
out of
5 cherries
Hidden Legacy Books:
FTC Disclosure:
The different formats of this book were purchased with private funds.
No money received for this review.