Magic Triumphs by Ilona Andrews
Book 10 of the
Kate Daniels
series
Read by
Renee Raudman
Genre:
urban fantasy
Format:
ebook & audiobook
About Magic Triumphs:
Mercenary Kate Daniels must risk all to protect everything she holds dear in this epic, can't-miss entry in the thrilling #1 New York Times bestselling urban fantasy series.

Kate has come a long way from her origins as a loner taking care of paranormal problems in post-Shift Atlanta. She's made friends and enemies. She's found love and started a family with Curran Lennart, the former Beast Lord. But her magic is too strong for the power players of the world to let her be.

Kate and her father, Roland, currently have an uneasy truce, but when he starts testing her defenses again, she knows that sooner or later, a confrontation is inevitable. The Witch Oracle has begun seeing visions of blood, fire, and human bones. And when a mysterious box is delivered to Kate's doorstep, a threat of war from the ancient enemy who nearly destroyed her family, she knows their time is up.

Kate Daniels sees no other choice but to combine forces with the unlikeliest of allies. She knows betrayal is inevitable. She knows she may not survive the coming battle. But she has to try.

For her child.

For Atlanta.

For the world.
Source:
Info in the
About Magic Triumphs
was taken from GoodReads at
https://www.goodreads.com/book/show/17333180-magic-triumphs
on 29/08/2018.
My Thoughts:
I was dreading going into this book, knowing that this is the last book in the series. I thought that beloved characters would die! Well, there was death... but the ending, though finished the story arc in the series, still left room for more stories to come and I am hopeful! Because this is really a beloved series! I want to read more of it. I am also hoping to read more of Conlan in future books in off-shoot serieses. Who doesn't want a cuddly little kitten version of Curran!! There is also an element of predictability in the story. Normally this is a downer for me. But in this book, I can totally ignore it for the wonderful reading time I get out of it!

As usual, Ilona Andrews did not disappoint! There are advantages and disadvantages to that. The advantage is, that we get a wonderful reading time! The disadvantage is that, now the post-wonderful-read depression sets in
Empirical Evaluation:
Story telling quality = 5
Character development = 5
Story itself = 3.5
Writing Style = 5
Ending = 4
World building = 5
Cover art = 4
Pace = 5
Plot = 4
Narration = 5
Overall Rating:
5
out of
5 cherries
About Ilona Andrews:
Ilona Andrews is the pseudonym for a husband-and-wife writing team. Ilona is a native-born Russian and Gordon is a former communications sergeant in the U.S. Army. Contrary to popular belief, Gordon was never an intelligence officer with a license to kill, and Ilona was never the mysterious Russian spy who seduced him. They met in college, in English Composition 101, where Ilona got a better grade. (Gordon is still sore about that.)

Gordon and Ilona currently reside in Oregon with their two children, three dogs and a cat. They have co-authored two series, the bestselling urban fantasy of Kate Daniels and romantic urban fantasy of The Edge.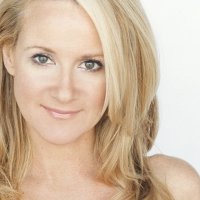 About Renée Raudman:
Renée Raudman is a multi-award-winning audiobook narrator. She has earned a number of AudioFile Earphones Awards, including for The Last Secret by Mary McGarry Morris and Wesley the Owl by Stacey O'Brien, as well as a Publishers Weekly Listen-Up Award for Joe Schreiber's Chasing the Dead. She has also performed on film, TV, radio, and stage, including the recurring roles of Jordon on ABC's One Life To Live, Phyllis on NBC's Passions, and guest-starring roles on prime-time TV. She has been heard in cartoons (The Simpsons, Billy & Mandy), videogames, and on the E! channel. Her narration of Homer's Odyssey by Gwen Cooper was selected by Library Journal as one of the best audiobooks of 2009, and her reading of Marthe Jocelyn's Would You was selected by the ALA as one of the best young adult audiobooks of 2009.
FTC Disclosure:
The ebook and audiobook copies of the book were purchased with private funds.
No money received for this review.