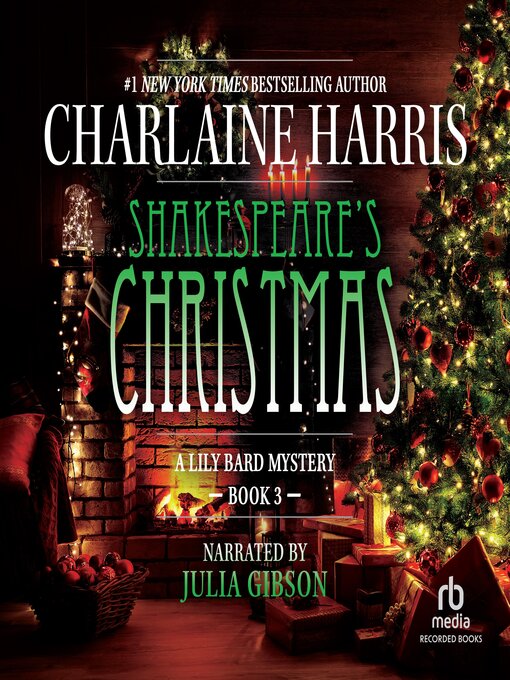 Shakespeare's Christmas by Charlaine Harris
Book 3 of the
Lily Bard mysteries
Narrated by
Julia Gibson
Genre:
murder mystery
Format:
paperback, audiobook
About Shakespeare's Christmas:
Even in a sleepy Arkansas town, the holidays can be murder.

Lily Bard is going home for the holidays. More comfortable in baggy sweats than bridesmaid's frills, Lily isn't thrilled about attending her estranged sister's wedding. She has moved to Shakespeare, Arkansas, to start a new life, cleaning houses for a living, trying to forget the violence that once nearly destroyed her. Now she's heading back to home and hearth--just in time for murder.

The town's doctor and nurse have been bludgeoned to death at the office. And Lily's detective boyfriend suddenly shows up at her parents' door. Jack Leeds is investigating an eight-year-old kidnapping and the trail leads straight to Lily's hometown. It just might have something to do with the murders...and her sister's widowed fiancé. With only three days before the wedding, Lily must work fast to clean up the messy case before her sister commits...marriage!
Source:
Info in the
About Shakespeare's Christmas
was taken from GoodReads at http://www.goodreads.com/book/show/32513.Shakespeare_s_Christmas 06/05/2012.
Review:
In this book Charlaine Harris veered off the usual main story line which is a small time murder in Shakespeare (though there is still small town murder) and more into the realm of family issues as the backdrop of the murder investigation. This provided a nice change in pace and kept the series from getting boring. While still adhering to the series' main theme which is small town murder. Here we encounter a bit thicker plot than the rest of the series thus far. Though for a murder mystery book, I would still consider the plot a bit thin on the ground. And the cover art continues to fail in it's function as a marketing tool. The main selling point of this book is that, one, it got Charlaine Harris' name on it. And second, it is part of the Lily Bard series which the fan base of the series will surely buy.

A nice little christmas read to remind us of the things which are actually in our lives that we ought to be thankful for!
Empirical Evaluation:
Story telling quality = 4.5
Character development = 4.5
Story itself = 4
Ending = 4
World building = 4.5
Cover art = 2
Pace (audiobook) = N/A (6.5 hours listening time)
Narrator = 3
Overall Rating:
3.5
out of
5 cherries
Thank you to the
RCT Library
for letting me borrow this book!!
FTC Disclosure:
This audiobook was borrowed from the library. Tha print edition was purchased with private funds. No money received for this review.