Today is the first stop for the
Sex & Subterfuge
virtual book tour
and we have with us the scrumptious
Earl of Granville
!
First of all... please tell us a little more about yourself.
I am Lucien Harrington, Earl Granville, Viscount Harrington. You, my dear, (lifts hand to kiss the back of it) may call me Lucien. My parents have recently been murdered, and I'm searching for their killers, which is why I currently reside on my steamship, sailing from the upper regions of Canada, down the coast of the United States. My next stop is Philadelphia.
Unfortunately, I had to leave my beloved sister, Isadore, in England. She couldn't travel with me after our parents' murder, and while she's with close friends, I don't want her alone. However, I do have ways to keep in touch with her.
Are you into reading books? If so, what is your reading list?
I tend not to have a lot of time to read, I'm very busy with my shipping business and currently with searching the entirety of North America for the mysterious Blackthorne line. Being a strong magicker myself, I also have to keep a low profile, there are a lot of people out there who will turn me in for the few pounds they'll receive from the Witch Hunters. Still, I do enjoy Charles Darwin, an interesting fellow him, with interesting ideas, as well as Mr. Tolstoy's War and Peace, Charles Dickens, Alexandre Dumas.
Between searching for magickers, smuggling them from the Witch Hunters, campaigning for more magicker freedom, keeping my own Druidic heritage secret, and now searching for the missing master line, the Blackthornes, my life is full. Pity, I enjoy a good drama.
If you could have one superpower, what would it be? What kind of power would you choose?
My dear, I already have superpowers, as you call them. I control the water. I love the sea, always have, and it listens to my every command. Hurricanes and typhoons? I can sail straight through them with no problems. I can create storms, too, to lash out at any enemy ship.
I wouldn't want to be gouache, however, and am very discreet with my powers.
What is the scariest thing you've ever done?
Looking into my sister, Isadore's, face when our parents were murdered and telling her I wouldn't be there for her. That I was going to the Americas in a fruitless attempt to find a master magicker line that hasn't been heard of in over 150 years.
However, the scariest sight I've ever seen is when I angered Isadore and her dearest friend, Raven. It was a day I'll not soon forget and the day I learned that even the bravest of men can run for their lives. I was in my early teens, home from Eton. I have absolutely no idea what I did, but the two of them together, magicks all but sparking out of their fingertips, presented a sight I'll not soon forget.
:) If a powerful entity grants you one wish, what would your wish be?
To remove Sir John Corwin, Head Witch Hunter, from this earth. Not kill him, if it was that simple I'd do it today. No, I fear he'll become a martyr for his cause if murdered, but I want him disgraced, embarrassed, plucked from this world as if he never existed.
However, my utterly selfish wish would be to speak with my parents once more, to hear my father's boisterous laugh, to feel my mother's energetic presence. And to apologize for not preventing their deaths. They died right in front of me at an innocuous picnic on our estate, and I was helpless to do anything to prevent it.
We are sorry to hear of your parent's death, Lucien! But we hope that you would be successful in your quest...
Sex & Subterfuge by Isabel Roman
Book 2 of the
Dark Desires of the Druids
series
About Sex & Subterfuge:
A master magicker, Morgana Blackthorne has a tenuous hold on her following. When a strange Englishman arrives on her doorstep with news of other druidic magickers, and magicker problems, she's intrigued but suspicious. There hasn't been contact between the American and European druids in over a hundred years. Plus she has her own worries and doesn't need the handsome earl adding to them.

Lucien, Earl of Granville, left England to seek out the Blackthorne Druid line and discover what they've been up to since contact was lost. Once he and Morgana meet, their mutual attraction distracts him from his puropse. Embroiled in her problems, he finds himself more concerned with her welfare than is practical for a passing affair.

When I invited you into my bed, it never occurred to me I wouldn't want you to leave.

There are darker forces at work and the hunger of a weak magicker desperate for power. Will Lucien convince Morgana of his true feelings before things spiral out of control? Or will the surrounding subterfuge tear them apart?
Source:
Info in the About Sex & Subterfuge was taken from the author's website at http://isabelroman.com/SexandSubterfuge.htm on 21/06/2010.
Check out Isabel's free
Dark Desires of the Druids: Choose Your Own Adventure
story!
Author Links:
isabelroman.com
blog
facebook
twitter
YouTube
Buy Link(s):
Giveaway: (CLOSED)
Part 1: Isabel
will be giving away a Vice Versa beaded fashion purse, a summer shawl, and a box of Godiva chocolates to one randomly drawn commenter from the blog stops. To enter, leave a comment on the blog stops (listed below) -- enter at every stop each day to earn more entries!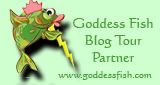 This blog tour was courtesy of
GoddessFish
. The tour stops:
7/12/2010
Cherry Mischievous
7/13/2010
Alisha Paige
7/14/2010
You Gotta Read Reviews
7/15/2010
Tory Richards Romance With An Attitude
7/16/2010
The Romantic Journey
7/19/2010
Domistically Challenged Momma
7/20/2010
Fantasy Pages
7/21/2010
The Cozy Page
7/22/2010 Amber Scott Project
7/23/2010
Diary Of A Literary Goddess
7/26/2010
Bad Girl (And Bad Boy) Writer's Block
7/27/2010
Simply Sexy Stories
7/28/2010
7/29/2010
7/30/2010
8/2/2010
8/3/2010
8/4/2010
Kaily Hart, Writer
8/5/2010
Angela Kay Austin Romancing The Pen
8/6/2010
Authors By Authors
Part 2:
Another lucky commenter will win a print copy of Sex & Subterfuge. This part of the giveaway is not part of the tour, but this is from me to my readers. I think this book is so sizzlingly good that I've pre-ordered it and I will buy another copy of the book and send it to a lucky commenter! So there will potentially be two winners here: one from the virtual book tour and one from me :) This part of the giveaway is open to followers only, you have to be 18 or over to enter, open to international readers and ends on August 6. Winner will be notified by email, so please make sure that you leave a way to contact you or come back after August 6 to check if you've won.
*Disclaimer: Tour images were provided by
GoddessFish
. Book cover art was taken from the internet and is presumed to be in the public domain and is therefore under the Common License.